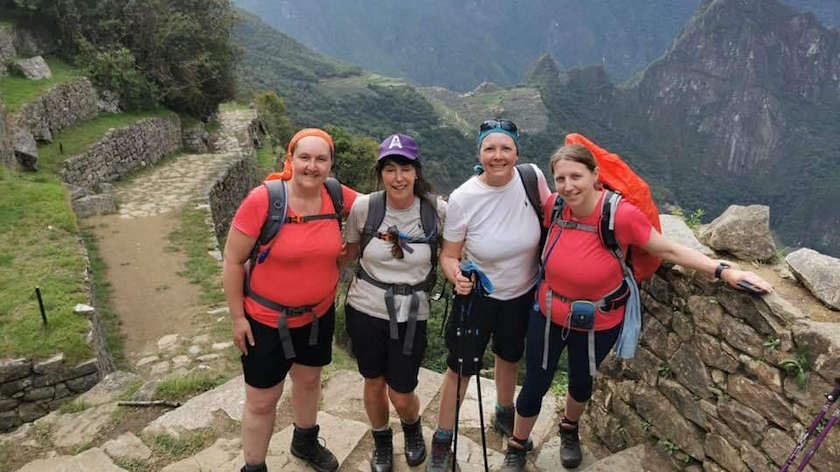 A team of staff from Airedale Hospital's children's ward have raised more than £7,500 to improve the ward's outdoor play area after completing a 46km trek through Machu Picchu.
The team of four, consisting of Rebecca Bell, Kirsty Randell, Suzi Vogt, and Kim Varey, made the journey to South America last month to fundraise for the Children's Unit and the Airedale Baby and Child (ABC) fund.

Their goal was to raise funds to improve the outside play areas of the Children's Ward at Airedale Hospital.

Keeping them company was Hiram, the Llama mascot that came with the team on their travels.

Rebecca Bell, staff nurse at Ward 17, said: "It was a truly amazing experience. We couldn't quite believe we were really doing it.
"There were a couple of tough moments for the team, but we all pulled together and kept each other motivated, and it was 100% worth it; Machu Picchu is breath-taking! We had so many laughs and met some incredible people."

After trekking 46km over four days at an altitude of over 4,000m, the team exceeded their fundraising goal, raising an incredible £7,591.

Rebecca continued: "The Inca trail has always been high on my bucket list, and doing it for charity was a bonus. After working on the ward for over eight years, I've seen the fun and happiness the children have in the outside play area, so if we can improve it in any way, I believe it will have a positive impact."

Kirsty Randell, Matron of Ward 17, said: "The Children's Unit is very fortunate to have an outside courtyard that allows children to undertake play activities outdoors. Unfortunately, the area is tired and dated and is in need of a refresh to make it inviting and exciting for the children to use again.
"This is the reason that we decided to challenge ourselves to walk the Inca Trail to Machu Picchu. Each of us faced different personal challenges whilst doing the walk, but we supported each other to achieve our goal."

Jodie Hearnshaw, Charity Manager was proud to be able to support the team. She said: "We were really excited when we spoke to the team and heard about their plans. For them to take on this bucket list challenge themselves was incredible but to raise money for Airedale and their own patients at the same time was truly heart-warming. We are extremely grateful to the team for their hard work and are looking forward to helping them see the results of their fundraising take shape."

There is still time to donate - if you would like to help improve the outdoor facilities for Airedale's young patients please visit Ward 17's fundraising page at https://www.justgiving.com/campaign/ward17gotrekking to donate.