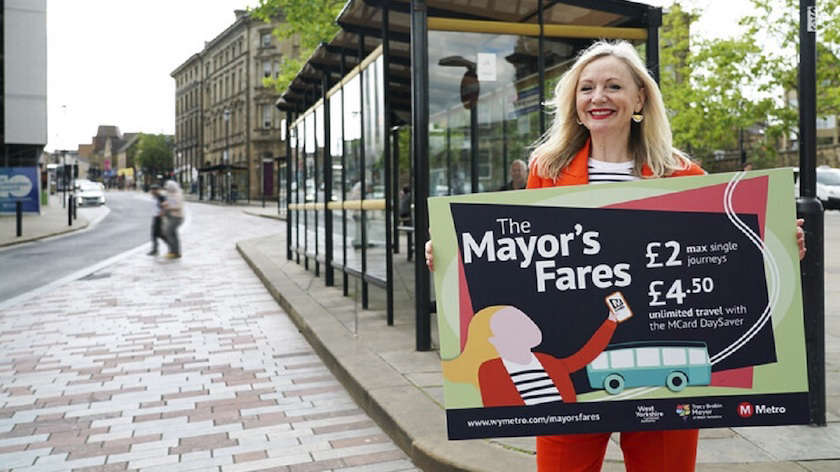 The number of people using buses in West Yorkshire has increased since new cheaper fares were introduced, although a report says it would be 'premature' to attribute all this growth to the policy.
Mayor's Fares were introduced by West Yorkshire Mayor Tracy Brabin in September, and see single fares capped at £2.
The cost of a day ticket was capped at £4.50.
The policy has been funded by a £3.4m injection of cash to bus operators from West Yorkshire Combined Authority's Bus Service Improvement Plan.
New figures released by the authority show that bus usage has grown from 81 per cent of pre-pandemic levels in May, to 87 per cent in December – after the Mayor's Fares were introduced.
A report detailing the benefits of the reduced fares will go to the Combined Authority's Transport Committee on Friday.
Referring to the increase in bus usage, the report says: "However, this increase is in step with a similar increase nationally (outside London) where only West Yorkshire, Greater Manchester and Merseyside have £2 fare capping.
"It is premature to attribute all of this growth to Mayor's Fares although it is clearly having a beneficial effect."
Date from the first few months of the cheaper fares shows that 7.2 million customer journeys were made using the fares – approaching half a million passenger journeys each week.
Passengers saved a total of £3.6m compared to what they would have been paying without the initiative, and on average each passenger is saving 20 per cent compared to before the policy being introduced.
Over a third of all subsidised journeys have been made on MCard DaySaver tickets.
Ms Brabin said: "The early success of Mayor's Fares shows there is an appetite for well-priced bus travel in West Yorkshire. This is especially important as our communities face a cost of living crisis and I'm proud that we have been able to help people at a time when they need it most.
"I want to encourage as many people as possible in our region to use greener and more sustainable ways of getting around – we now need to see the bus operators do their bit and work hard to recruit drivers and ensure services are as reliable as they can be.
"We want to create a public transport renaissance in West Yorkshire, and cheaper bus travel is just the start."
Councillor Susan Hinchcliffe, Bradford Council Leader and Chair of the Transport Committee, said: "This is a practical and simple way leaders in West Yorkshire can help families and individuals who may have been struggling to afford to meet loved ones or get to work."