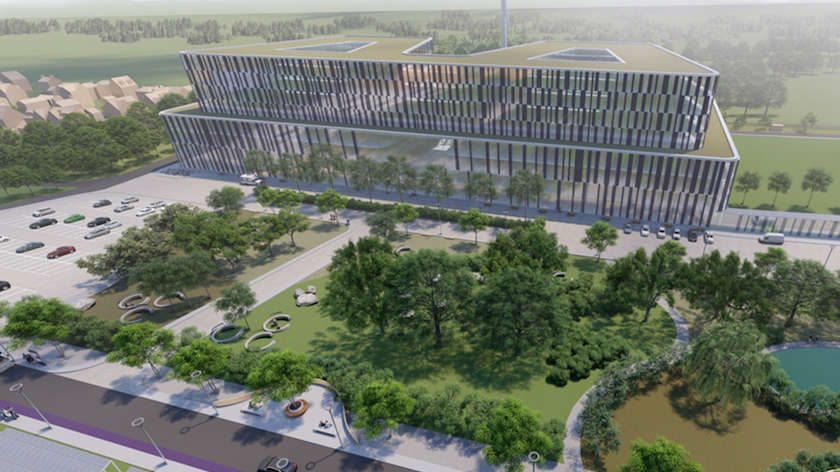 An artist's impression of the proposed new Airedale Hospital
Plans for a new state-of-the-art Airedale General Hospital are a step closer after the government put the Airedale onto its New Hospital Programme.
The announcement was made today (Thursday 25 May 2023) by the Secretary of State for Health and Social Care Steve Barclay in the House of Commons.
Delighted staff celebrated the news after an announcement was made on the outcome of the bid which was submitted to rebuild the hospital.
And local MP Robbie Moore called it a "landmark day" as a result of "one of the most significant investments announced for our community in decades".
Airedale General Hospital is among a small number of hospitals in the UK that were built in the late 1960s, and is experiencing severe structural problems as it was built with reinforced autoclaved aerated concrete (RAAC), a lightweight, bubbly form of concrete.
RAAC was found to have a lifespan of 30 years and structural engineers have advised that the hospital should be replaced as soon as possible.
Speaking after the announcement was made, Foluke Ajayi, Chief Executive of Airedale NHS Foundation Trust, said: "We are truly delighted to hear the announcement that we have been accepted on to the New Hospital Programme.
"A new hospital will have far-reaching benefits for our local community, allowing us to continue to provide vital health care in a safe, modern environment that's fit for the future, and that will improve patient outcomes and experience.
"I know I speak for all our incredible staff, patients, governors, volunteers and wider supporters when I say that this is the news that have been waiting for since we were first made aware of the major structural problems Airedale General Hospital faces with Reinforced Autoclaved Aerated Concrete (RAAC).
"I would like to take this opportunity to thank everyone who has supported us so far along this process, in particular Bradford District & Craven Health and Care Partnership, West Yorkshire Health and Care Partnership, NHS England our local MPs, leaders of our local authorities and local councillors.
"We are eager for planning to start on the new hospital but recognise that this is just the first step in the journey, and we look forward to hearing further details when they are announced.
"In the meantime, we are continuing to take every step possible to maintain a safe environment to provide high quality health services for our community, and would like to thank our patients and staff for their continued patience as essential structural work continues at Airedale."
Tap here to listen to our interview with Foluke Ajayi reacting to this week's news on our podcast.
The new hospital will be built on the current site and is planned to be more environmentally friendly, making use of a range of sustainable technologies.
Andrew Gold, Chair of Airedale NHS Foundation Trust, said: "Being included as one of the hospitals added to the Government's New Hospitals Programme is tremendous news, providing a major boost to the local community and securing the future of high-quality healthcare provision on the Trust's Steeton site for years to come.
"Replacing the well-chronicled RAAC affected areas of Airedale General Hospital has been a key priority for the past few years and this announcement means that we can all look towards the future with positivity. We are excited to use the opportunity presented with the New Hospital Programme funding to transform healthcare for the population we serve and look forward to firming up plans as more information becomes available."
Keighley and Ilkley MP Robbie Moore said: "Today is a landmark day for Keighley and Ilkley and one of the most significant investments announced for our community in decades. A new Airedale Hospital will make an unprecedented difference to the lives of so many across our community for generations to come. Since being elected, I have campaigned tirelessly on this issue, alongside the fantastic Airedale NHS Foundation Trust. Having visited the hospital many times for meetings over the last few years, I have seen first-hand just how bad the structural condition is, and that's why I made it my number one priority.
"From the moment I was elected as Keighley and Ilkley's Member of Parliament, I made it absolutely clear to government on numerous occasions that our town would never settle for sticking plaster solutions and only a new hospital will do. It is why I launched my campaign for a full rebuild of Airedale Hospital as soon as I became your MP, and why in the years since, I have persistently lobbied the government at every level for a full rebuild. This has involved holding numerous on-site visits and meetings at Airedale, assisting the Trust in their proposals for a new hospital, securing my own parliamentary debate for the rebuild and personally lobbying the Prime Minister, the Chancellor, Health Ministers, and the Health Secretary for the new hospital – even taking some of Airedales' crumbling concrete into a key meeting at Downing Street.
"With the money now secured, now is the time for delivery. With today's announcement stating the new hospital must be completed by no later than 2030, time is of the essence. Now the real work begins, and I look forward to working with the government and the Airedale NHS Foundation Trust to ensure that the delivery of our landmark new hospital is a complete success."
Tap here to hear more reaction from Robbie Moore MP on the Rombalds Radio Local podcast.
Airedale is one of five hospitals with significant amounts of RAAC that are being added to the New Hospital Programme – the others are Queen Elizabeth King's Lynn in Norfolk, Hinchingbrooke in Cambridgeshire, Mid Cheshire Leighton in Cheshire and Frimley Park in Surrey.
Health and Social Care Secretary Steve Barclay said: "These five hospitals are in pressing need of repair and are being prioritised so patients and staff can benefit from major new hospital buildings, equipped with the latest technology.
"On top of this I'm strengthening our New Hospital Programme by today confirming that it is expected to represent more than £20 billion of new investment in hospital infrastructure.
"As we approach the 75th anniversary of our fantastic NHS, this extra investment will ensure it can care for patients for decades to come and help cut waiting lists, so they get the treatment they need quicker."
Skipton MP Julian Smith said: "Excellent to see after years of campaigning the announcement of funding for the rebuild of Airedale Hospital NHSFT by 2030.

"The New Hospital Programme is now expected to be backed by over £20 billion of investment in hospital infrastructure.

"I look forward to seeing the plans get underway, so staff can continue to deliver lifesaving patient care, in a state-of-the-art and safe environment."
John Grogan, Labour's Parliamentary Candidate for Keighley and Ilkley, said: "The people of Keighley and Ilkley will be rejoicing at this good news. Airedale Hospital is the institution that binds the constituency together.
This has always been a cross-party campaign locally and it was one of the major issues I raised at the General Election campaign in 2019. I commend the current MP Robbie Moore for his own contribution.
"The Chief Executive of the hospital has rightly said that 'this is the first step on our journey' and we must keep the momentum going. The truth is that it will be in the next Parliament and under the term of the next Government that the hospital will be actually built and the bulk of the money spent.
"Government promises of capital spending have not always been kept in recent years as we have seen with plans for high speed rail across the Pennines. Continued cross-party support from across the community remains vital."