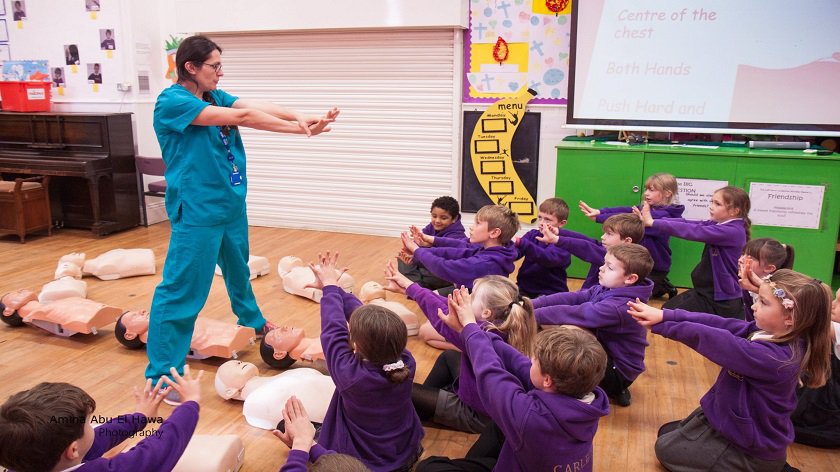 All pictures were taken pre-Covid social distancing restrictions.
A group of doctors and nurses from the Airedale Hospital have been shortlisted for an NHS Parliamentary Award after being nominated by local MP Robbie Moore.
'Hearts in Little Hands' are a team from the hospital's Emergency Department who teach children, parents and carers CPR and basic life saving skills.
The team who before the pandemic visited primary schools across the area to share their expertise via demonstrations and songs, were shortlisted for the Excellence in Urgent and Emergency Care Award Category.
Dr Annie Summer, Ilkley resident and speciality doctor in Emergency Medicine at Airedale NHS Foundation Trust says:
"We're absolutely delighted to be shortlisted for this award. All of us feel really excited because we started this programme a few years ago and we didn't expect to get to here, we do it all in our own time. In the next few months we plan to register 'Little Hearts' as a charity so we can help more of the schools who have been contacting us since we started."
There are more than 30,000 cardiac arrests a year outside of hospitals where medical emergency services attempt resuscitation.
Less than ten per cent survive, but if CPR can be started early, it can double the chances of survival.
Annie continues: "This younger age group of 6 and upwards, they are amazing, with our help they are starting CPR, putting people in the recovery position, they just know what to do. It's a great opportunity to teach these children at primary school age who can learn it and really learn fast."
The NHS Parliamentary Awards, sponsored by Fuji Film, were set up for the NHS' 70th Birthday to recognise the massive contribution made by the individuals who work in and alongside the NHS.
This year the NHS Parliamentary Awards highlight some amazing examples of care provided from all NHS services, including but not limited to hospitals, community services and local practices.
Robbie Moore MP was among over 260 MPs in England who put forward outstanding nominees who have innovated, impressed and made a real difference to how local health and care services provide care for patients.
Nominations closed on 1st September, and Hearts in Little Hands have been shortlisted as finalists for the Excellence in Emergency Care award
Robbie said: "For me, the Hearts in Little Hands team represent what's best about our NHS. They go above and beyond the call of duty and they're not only working hard for our National Health Service which is more important than ever right now, but they're also right at the heart of our community here in Keighley and Ilkley, giving others the skills they need to provide lifesaving emergency first aid."
Nominees put forward by MPs across England will initially be judged by senior local and regional NHS experts to find regional champions in each category, which will be announced later in November and will be featured in The House Magazine.
These regional champions will then be judged by a national panel made up of senior clinicians, union leaders, former winners and patient representatives, with the overall winners announced at a special awards ceremony held in Parliament on Wednesday 7 July – the week of the NHS' birthday.