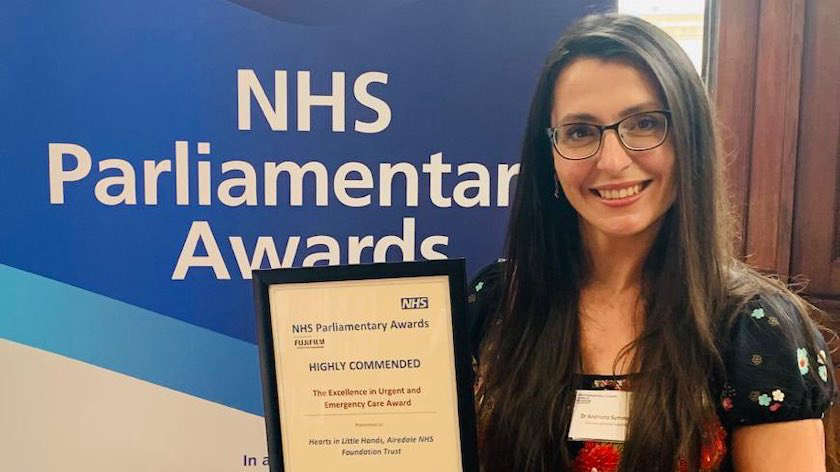 An emergency medicine doctor at Airedale has written and performed her own charity song, Footsteps in the Snow, to support the hospital's fundraising efforts.
Dr Annie Summers is donating the proceeds and royalties from the track to Airedale Hospital and Community Charity's latest appeal - which hopes to raise £150,000 for a refurbishment of the paediatric waiting area, paediatric resuscitation area and bereavement facilities at the hospital.
Having worked in the NHS for over 20 years, Annie was inspired to write the song 'Footsteps in the Snow' to show support to her fellow Emergency Department colleagues who work tirelessly to provide 24-hour urgent care to those who need it most within the local community.
Annie said: "As Emergency Department workers, we have had to be strong, show support, hold back, and wipe away tears. We witness miracles and tragedies every day and are often reminded that nothing is permanent. That's what I wanted to reflect in this song.
"Everything eventually fades away, but right now we only get one chance to make a difference. In the memory of many lives saved and lost, we hope to raise money towards the important work of the Airedale Emergency Department Appeal. "
Jodie Hearnshaw, head of charity at Airedale Hospital & Community Charity, said: "We are honoured to see our talented ED workers getting involved in the fundraising efforts. We are grateful to Annie for her support, and to everyone who listens to this song. The proceeds and donations made from 'Footsteps in the Snow' will help us to raise vital funds and awareness for our important charity appeal."
Annie is encouraging people to buy and share her single, which is available to play on Spotify, Apple Music, and YouTube. Donations to the cause can be made by tapping justgiving.com/campaign/AiredaleED.