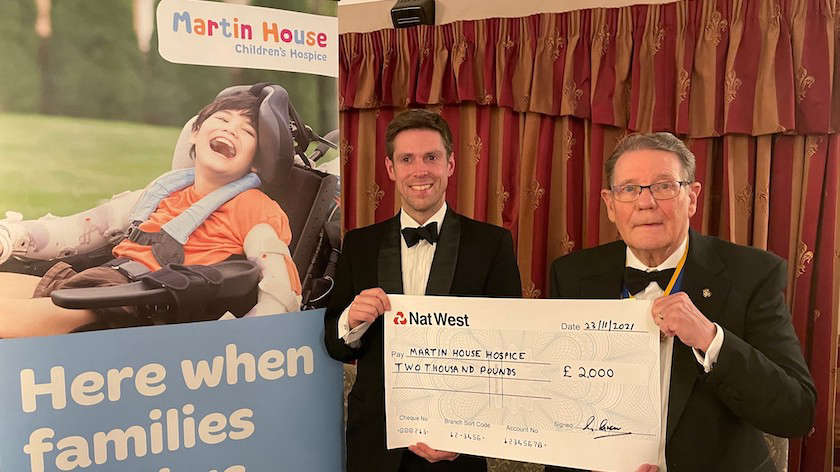 A cheque for £2,000 has been presented to Martin House Children's Hospice by members of the Rotary Club of Haworth & Worth Valley.
The cheque was presented on Tuesday this week (23rd November) as rotarians and their guests gathered for an event at Newsholme Manor near Oakworth.
Three former Presidents of the Rotary club - John Huxley, Nicholas Oughtibridge and Ian Park - were in attendance, having missed out on hosting its annual Charter Dinner during their years in office because of the Covid pandemic.
Current club president Gary Gardner said: "Being President of your club is a major honour for any Rotarian and usually the highlight of their year is hosting the club Charter Dinner.
"All of the trio helped see the club through the difficult Covid lockdowns and we wanted to mark their service to our club in a special way."
On the night Gary made the presentation of £2,000 raised through the Rotary Club of Haworth & Worth Valley's crowd-funding programme to support Martin House, with representative Chis Verney accepting the donation.
Gary added: "The £2,000 represents what we have raised for the hospice so far and we're keeping the fund open until the end of the year in the hope we can add to that total."
If you would like to help the Rotary Club of Haworth & Worth Valley members' campaign for the Children's Hospice you can donate by clicking on tinyurl.com/Martinhousehospice
Pictured below: A gathering of Rotary Presidents - Nicolas Oughtibridge, current Rotary club President Gary Gardner, Ian Park and John Huxley.