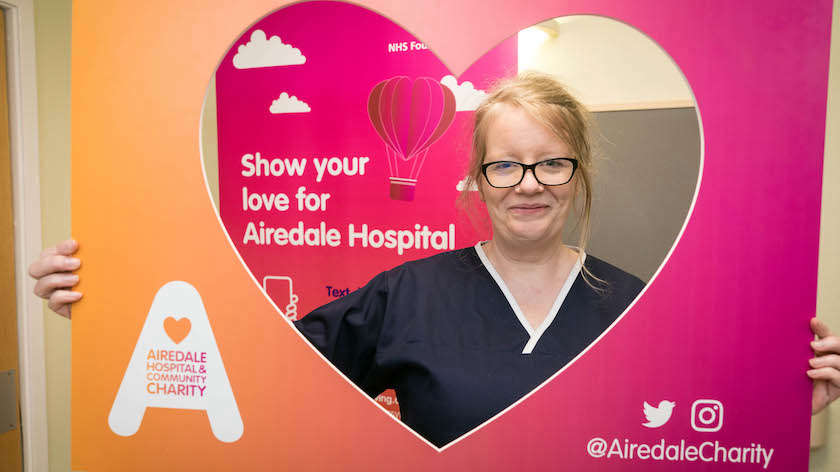 Nurse Andrea Ward from the Haematology and Oncology Day Unit
Work starts this week on a £175,000 refurbishment of the Haematology and Oncology Day Unit at Airedale Hospital.
The upgrade will take 16 weeks to complete and the updated unit will be unveiled at the end of September. It is being funded by the Airedale Hospital & Community Charity, thanks to generous donations from the local community and patients.
Haematology and oncology services will continue around the refurbishment works so there will be some noise and disruption and the hospital is asking people to please bear with them while the works are completed. Patients are being assured that the unit will remain safe for them to attend during the refurbishment period and extra services will be offered via the mobile cancer units with extended opening hours in the community over the next few months.
The refurbishment will transform an underused room into a new additional treatment room and give all the treatment rooms upgraded technology, ready for electronic patient records, to make communication easier with the community teams and GPs.
The rooms will feel calming and bright and the biggest impact will be in the patient lounge with all of the 12 new treatment chairs having new bespoke equipment to ensure patients are as comfortable as possible when having their chemotherapy. The chairs have a full reclining feature which means staff can immediately and safely manage patients in a laying down position if anyone becomes unwell.
The unit provides care for a large number of patients with a variety of haematology and oncology conditions, many of whom visit the unit on a regular basis. Patients have been integral in what they want the new unit to look like, they have shared their thoughts about colour schemes, style of furniture and have chosen wall murals for each of the treatment rooms, all to ensure the trust can create the best possible environment for those having treatment.
Nicola Denbow, Matron for Integrated Care at Airedale NHS Foundation Trust said: "Our patients are spending a lot of time on the unit at a really difficult period of their life, so it's really important we can create an uplifting and calming environment. It will be contemporary, clutter free and really comfortable. The equipment we are providing is pioneering, it's going to be a real transformation, for our patients and staff.
"The number of chemotherapy administrations we give has increased significantly in the last 12 months and we know that nationally, the number of people diagnosed with cancer will increase in the next 3-5 years. By undertaking this exciting refurbishment, we are ensuring that our unit is fit for purpose so that we can meet the needs of our population because we know more and more people are going to be diagnosed."
Jodie Hearnshaw, Charity Manager for the Airedale Hospital & Community Charity, said: "Cancer impacts all of us, we all know someone who is going through it, either as families or as friends, and so we're really happy to support this new unit with the help of our amazing community.
"We'd really love people to keep donating so we can continue to make improvements for patients with cancer, even after this work has finished."
If you'd like to donate towards the upgrade of the unit please go to airedalecharity.org/donate-to-one-of-our-appeals