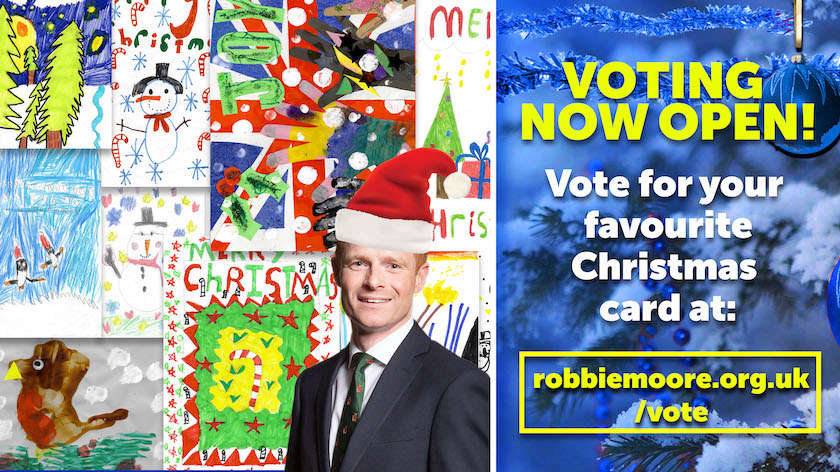 Eleven finalists from schools across Keighley and Ilkley have been selected by MP Robbie Moore, with an online vote taking place to select his Christmas card design for this year.
The card will be sent to the Prime Minister Rishi Sunak and other MPs, as well as hundreds of local people and businesses.
Hundreds of entries were received, with the finalists selected by Robbie Moore to go through to the final ballot.
Residents are being invited to vote for their favourite design via Mr Moore's website at robbiemoore.org.uk/vote.
Robbie Moore MP said: "This year, I have received some fantastic entries for my Christmas Card competition from Primary Schools right across our area, and it has been so difficult to whittle these down to just 11 finalists!
"I would like to thank everyone who submitted an entry, and residents can now pick their favourite design by visiting my website to vote! Good luck to everyone."
The deadline for votes to be cast is midnight on Sunday 27th November.
The finalists are:
Sasha - Age 7, Steeton Primary School
Jacob - Age 6, East Morton CE Primary School
Alima - Age 10, Eastwood Community School
Poppy - Age 8, Silsden Primary School
Anaya - Age 7, Holycroft Primary School
Jak - Age 5, Haworth Primary Academy
Theo - Age 5, Oakworth Primary School
James, Sophie, Theo, Rosie & Ava – Special Commendation
Milly - Age 10, Laycock Primary School
Amber - Age 7, Ben Rhydding Primary School
Logan, Age 4, Stanbury Village School