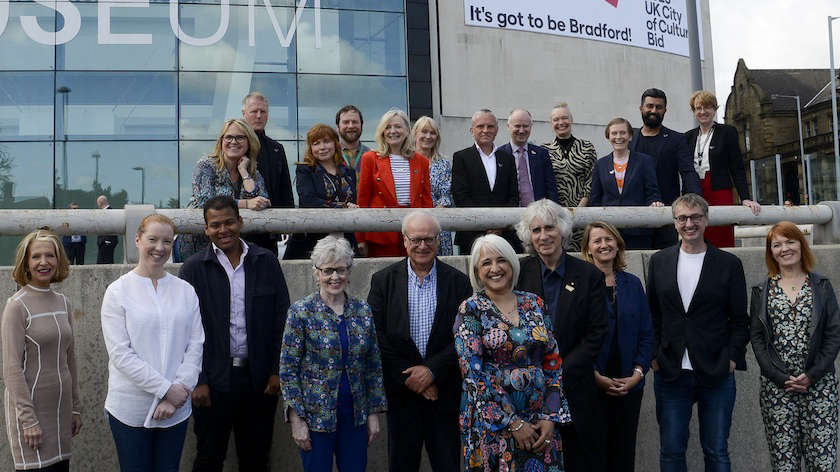 A judging panel has been in Keighley today (Tuesday) as part of a tour of the district for Bradford's bid to be named 2025 UK City of Culture.
The panel of 10 judges – headed up by Brookside and Hollyoaks creator Sir Phil Redmond CBE – went on a district-wide tour of its cultural gems after attending a 'welcome' event at the National Science and Media Museum.
The panel split into two groups to take in as much of Bradford's cultural landscape as possible, and to hear ambitious plans for how a City of Culture year could be game-changing for the whole district.
Among the destinations on the tour were the former Odeon building, Bradford Live, as well as Kala Sangam Arts Centre, Little Germany, Lister Mills and Salts Mill.
One group came to Keighley to meet the artists behind Keighley Creative, a new arts hub in the former Sunwin House building on Hanover Street which has ambitious expansion plans as part of the Towns Fund proposals.
Shanaz Gulzar, chair of Bradford 2025 said: "I want to thank all the brilliant creatives, businesses, community groups and individuals who pulled out all the stops today to showcase just why Bradford deserves to be the next UK City of Culture. We tried to take the Expert Advisory Panel on a journey, not just geographically around the district – but to discover all those things that make Bradford so unique: our heritage, our radical thinking, our boldness, our young people who are hungry for change and want to tell a different story of Bradford. I think we demonstrated today that not only does Bradford need the City of Culture title, but we also want it, we're ready for it and it's most definitely our time."
Cllr Susan Hinchcliffe, Leader of Bradford Council, said: "We showcased to the judging panel today what the district has to offer – both why it needs City of Culture 2025 and how it can deliver a unique and diverse year of culture. It will put Bradford district on the map – bringing in more visitors, new jobs in tourism, and help revitalise the city centre evening economy as well as our towns and villages after some challenging years.
"This bid is already part of a long-term vision. The district has put culture at the heart of its social and economic recovery from the pandemic and this bid forms part of the Council's 10-year cultural strategy. Most of all – it offers a platform for the voices and experiences of our many communities and cultures. This is Bradford's moment to showcase to the world how modern British culture can come together to create a great place. This is Bradford's time."
The Expert Advisory Panel are visiting all four of the shortlisted places - Bradford, County Durham, Southampton and Wrexham - before a winner is announced at the end of this month.