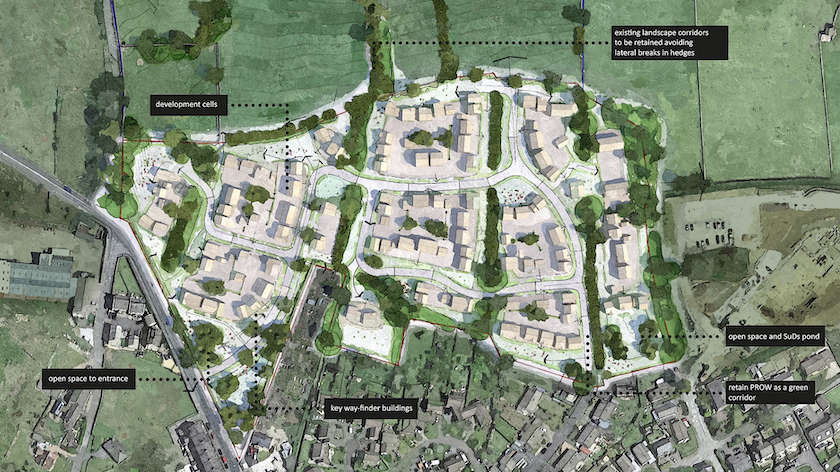 Persimmon Homes has begun an online consultation this week ahead of submitting a planning application to build approximately 150 houses off Bolton Road in Silsden.
Local residents are being invited to share their views on the proposal, which would bring 2, 3, 4 and 5 bedroom properties to land on the north east of the town, adjacent to Bolton Road and Brown Bank Lane.
The plot was removed from the green belt in 1998 and part of the site has been identified for housing in Bradford Council's Local Plan, which has yet to be formally adopted.
Persimmon Homes West Yorkshire says 20% of the new homes will be affordable and available for discounted rent or purchase, and it is also proposing an area of 'public space' as part of the development.
Those working on the design of the housing estate say they plan to integrate existing features of the land such as trees, hedges, drystone walls and existing public footpaths (including the Millennium Way) into the development, with buildings fitting in amongst them.
A 'community infrastructure levy' payment of around £250,000 would be made if the development goes ahead, with 25% of that going to Silsden Town Council.
Persimmon says once the consultation ends on 4th October, a detailed planning application will be prepared and submitted to Bradford Council.
Local residents on the Silsden Buzz Facebook group have expressed concerns about the development, which is in addition to houses currently being built nearby on the other side of Bolton Road as well as at sites off Keighley Road and Belton Road.
Work is also currently being completed on the new primary school for the town - once it moves from its current sites on Hothfield Street and Elliott Street it is anticipated that the former school buildings will be demolished to make way for more housing.
Some Silsden residents have also highlighted the poor timing of the Persimmon consultation, with flyers about it arriving through letterboxes this week as the town faces gridlock from the closure of Skipton Road for resurfacing - and ongoing temporary traffic lights causing long queues past the housing development on Keighley Road.
A spokesman for Persimmon Homes West Yorkshire told Rombalds Radio: "We are in the very early stages of our potential development in Silsden.
"We would like to invite local people to share their comments on the proposals via the consultation website available at boltonroadsilsden.co.uk"