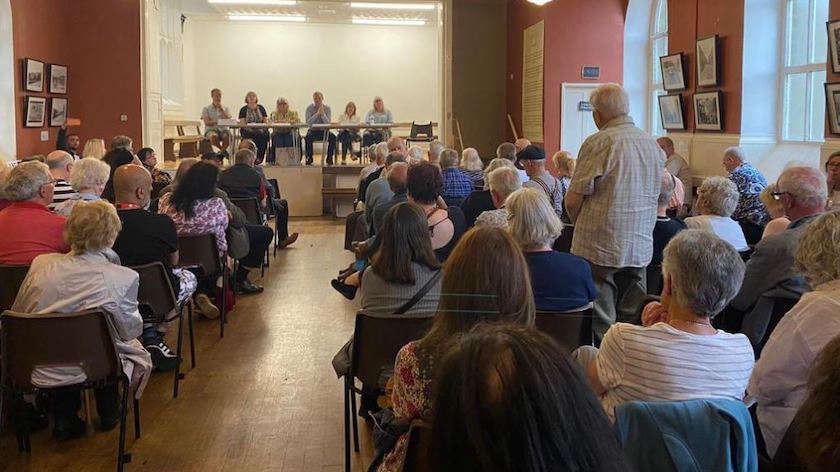 Campaigners say the fight to keep the Post Office at the top of Haworth's iconic Main Street open will continue, despite its scheduled closure next month.
More than a hundred people attended a public meeting on Thursday night to discuss the plans by Post Office Ltd to shut the branch on 29th July.
Despite being invited to the event, there was no representative from Post Office Ltd present.
Among those at the meeting were Keighley MP Robbie Moore, Worth Valley District Councillor Rebecca Poulsen, Lydia MacKinnon and Carole Richardson of the Save Haworth Post Office Campaign Group, and Haworth Parish Councillor Trudy Mahon.
Robbie Moore MP said: "I would like to thank each and every person who attended the public meeting. The sheer number of people there sent a very clear message to the Post Office Ltd that we want our much-loved Post Office to stay open.
"It was incredibly disappointing that despite being invited, the Post Office Ltd did not attend, and that they are still looking to close the Haworth Post Office on the 29th July.
"Closing this Post Office sends all the wrong messages, we need to be supporting businesses and local people, not taking away their vital local provisions.
"Throughout the past year, since the Post Office first outlined their intention to close Haworth Post Office, the community, residents and businesses have been poorly communicated with by the Post Office Ltd and there has been no ambition on the Post Offices part to keep the service open. This meeting enabled innovative ideas to come forward from local business leaders and the wider community, and I will be presenting these to the Post Office. I only hope they are prepared to listen. Community engagement is key, something the Post Office should be doing.
"In a year when we have been awarded 'District of Culture', are emerging from the pandemic, seeing visitor numbers to Haworth increasingly, business usage of the Post Office services on the up and customer sessions growing at Haworth Post Office, despite the Post Office in the Coop on Station Road opening, the very last thing the Post Office should be doing is closing Haworth Post Office.
"We will continue our fight to keep Haworth Post Office open."