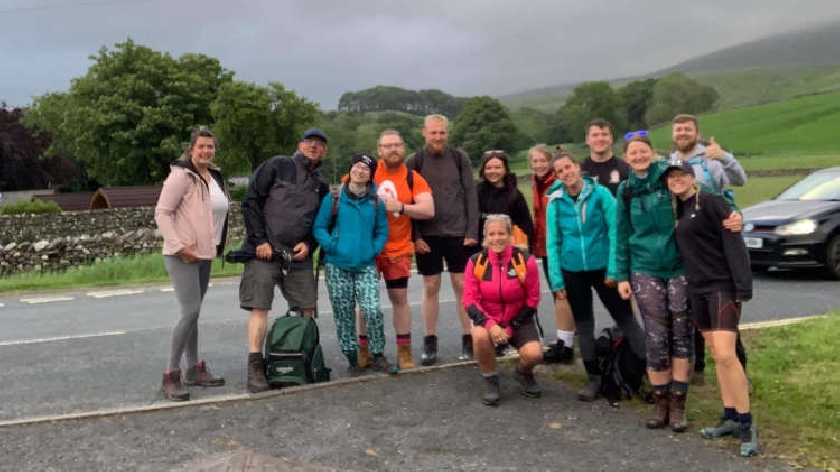 Staff members, friends, and customers from Rise Fitness in Skipton walked the 24-mile Yorkshire Three Peaks challenge last month to raise money for Airedale hospital's Haematology and Oncology Day Unit (HODU).
The team, made up of 13 people, raised a total of £1,334.40 for the HODU fund, which is part of Airedale Hospital & Community Charity.
HODU provides care for a large number of patients with a variety of haematology and oncology conditions, many of whom visit the unit on a regular basis for chemotherapy and other treatments.
Thanks to charitable donations and the support of generous patients and the Airedale community, Airedale Hospital & Community Charity is currently funding a £175k refurbishment of HODU which is due to be complete in mid-September. This will transform the unit to make an additional treatment room, upgraded technology in all areas, and new recliner chairs to help ensure patients are as comfortable as possible when undergoing chemotherapy.
Lucy Green, Leisure Manager at Rise Fitness Skipton, said: "The walk went amazingly, and we raised over £1,300. Everyone completed it in different times but the whole team did really well. Three out of the five of our members of staff took part, and the two that were working did the challenge by peddling the same number of miles on exercise bikes.
"We supported HODU as this was the ward that looked after my dad through his chemotherapy, plus many of our members have been treated at HODU. The staff on the unit were amazing and it's a cause very close to our heart.
"We chose to walk the Yorkshire Three Peaks as it was my dad's favourite place to run when he could still do so."
Nicola Denbow, Matron for HODU at Airedale NHS Foundation Trust, said: "Everyone from HODU is really grateful to Lucy, the staff and members from Rise Fitness, and everyone who donated. Donations like this allow us to fund new and innovative equipment to improve Airedale HODU and the experience that our patients receive."
People can donate to Airedale HODU by visiting airedalecharity.org/donate-to-one-of-our-appeals/