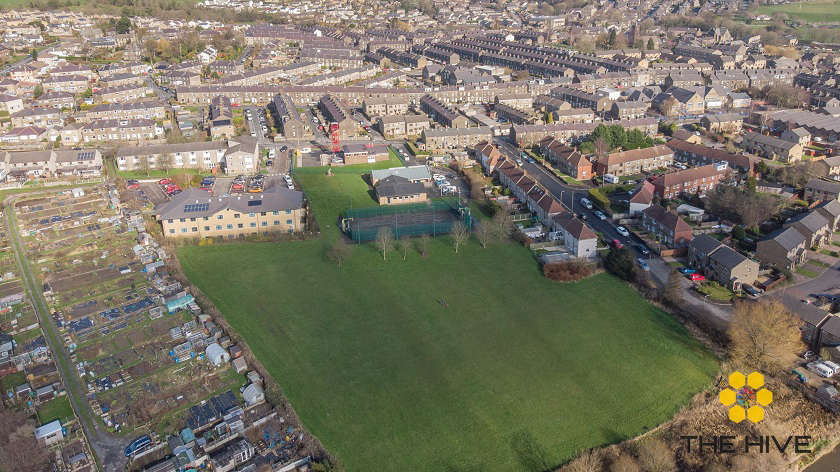 Residents of Silsden are being encouraged to gather on the recreation field behind The Hive community centre tonight to send a message to Bradford Council that the land is not for sale.
Hundreds of people have already written to the local authority to express their views on the future of the land, which is used daily by local children, sports clubs, fitness groups and dog walkers.
The council is understood to be considering selling the field for housing development along with the sites of the current infant and junior school buildings once the town's new school building opens at the opposite side of Silsden later this year.
Tonight (Thursday 22nd July) at 6pm, residents are encouraged to take part in a Silsdican Wave (like a Mexican Wave but in Silsden) to be filmed by a drone camera. Anyone attending wearing a white t-shirt can also help spell out the words 'not for sale' on the field.
Piers Lane, trustee at The Hive CIC, told Rombalds Radio: "Sadly, with the closure of the school and the relocation of the school Bradford Council has decided that the piece of land isn't necessary any more and they want to sell it to the highest bidder to developers for putting housing on. That's a real shame, because actually it's one of the very few last green spaces that still was around for people in the community to use.
"We all understand that there is an increasing population and there is a need for new housing, but actually we've seen the council already set aside enough land for the housing which is required so there's really no reason for it to be sold. The neighbourhood plan that everybody voted for recently says that green space really matters and this is a piece of land that the neighbourhood plan - and the town council - said should be saved for leisure.
"To me, in one sense it's a no-brainer and Bradford Council don't need to sell it. By doing this they will get themselves some bad press; by saving it they will get some good press. So I really hope that they will take the opportunity to do the right thing.
"The idea of the Silsdican Wave is just to get noticed. We're waving for attention, we're waving to be seen, we're waving for the council to pay attention to just how important this is for the people of Silsden not to lose another piece of green space."
Click here to listen to Piers Lane on Rombalds Radio talking about the campaign.