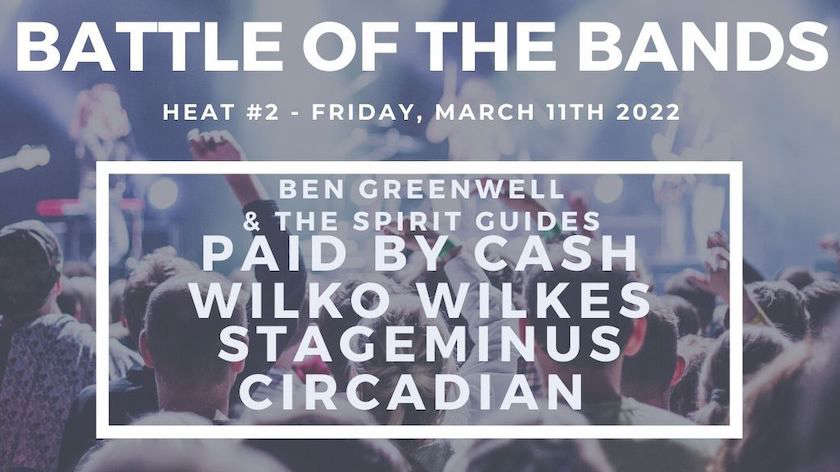 The second of four heats as part of a competition to select up-and-coming performers for this year's Gateways Festival is taking place on Friday night in Keighley.
Cliché Cult won the first heat last Friday so go through the the final of the competition on 1st April.
On stage at the Exchange Music Venue & Arts Centre this Friday (11th March) will be another five acts hoping to make it through to the final of the process next month, and ultimately win a place on the stage in Skipton's Aireville Park in July.
Here are the acts in the second heat on Friday from 7.30pm.
Ben Greenwell & The Spirit Guides
Ben Greenwell takes his listeners on a journey of love, life and truth. The Spirit Guides match Ben's energy and complement his heartfelt soulful songs. With his soulful voice and emotive harmonica The Spirit Guides take roots rock to a fresh level with playful harmonies and solid grooves.
Paid by Cash
Paid By Cash are a four-piece band from Skipton. Influenced by genres such as Post-Punk and Shoegaze, they have developed a unique style that integrates droning guitars underneath a soft vocal. "The rhythm section is tight and claustrophobic, adding drama to the songs, whilst the guitars are allowed to let loose and duel with the vocals for pole position" - Even The Stars wrote. Fronted by guitarist/vocalist Ollie Carter, they have played at numerous venues supporting bands in West Yorkshire.
Wilko Wilkes
Wilko Wilkes is an alternative rapper, writer, lyricist, singer, MC & storyteller from West Yorkshire. His diverse writing takes you on a journey from the depths of depression to the thrill of feeling alive, encapsulated by his trademark manic laugh. He writes and raps from the heart, blending his troubled and uneasy outlook on life with messages of hope, unity & respect, peppered with humorous wordplay, mundane real-life references and unexpected twists. A master of timing with unerring conviction, he delivers his verses at blistering pace with pinpoint precision.
Stageminus
stageminus is a three-piece from Bradford, playing original songs inspired by grunge and alt rock genres.
Circadian
Circadian are a high energy, proficient four piece grunge rock band. All are currently undertaking their A-levels in music college. These young musicians display a clever use of timing and chord progression which shows in the varying styles from their own compositions. Their music is clearly influenced by the likes of historic rock legends such as Led Zeppelin, but also up to date influences such as Narrow head and super heaven to name a few.
The drummer Owen, displays such an addictive energy when playing live, his technique can be heard to echo some of his favourite drummers which provides a driving force for the band. On bass Sam's knowledge and confidence in the unique melodies he provides for their song list is why he is considered locally to be one of the best bass players around. On Guitar, Harry provides a raw sound from his left handed 61 Gibson SG, providing the fullness and teamwork with the drums and bass, given the three instruments on stage, their sound is full and complete. The singer Bobby provides the energy, humour and sheer madness on stage. You can hear his led zeppelin, peal jam influences. This is a live band first and foremost, they have a real love of music and it shows in the songs they have written and performed.