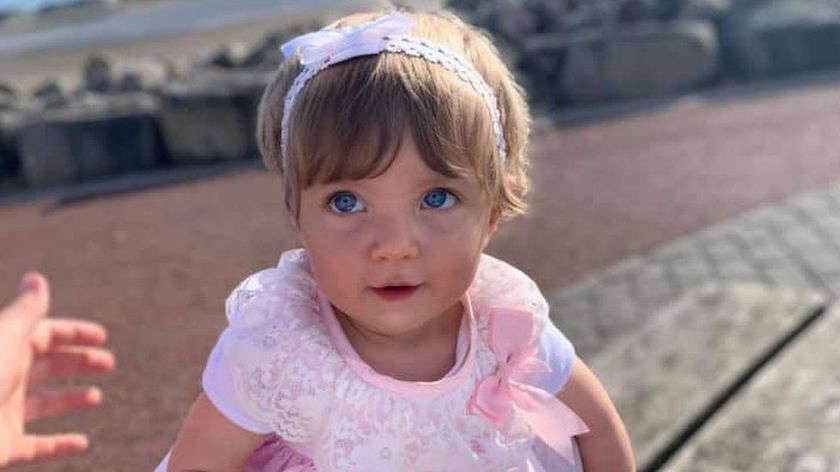 A report has found turmoil in children's services, "superficial" assessments by social workers, inexperienced leadership and poor communication between the organisations that were meant to protect her all played a part in the death of Star Hobson.
The national child safeguarding practice review, published today, also says 16 month old Star's wider family were "not listened to" and that warnings about the toddler's wellbeing were too quickly dismissed as "malicious."
The review carried out by the national Child Safeguarding Practice Review Panel says that while many failings were Bradford-specific, others "reflect wider problems in child safeguarding practice."
And an NSPCC spokesperson has said it is "crucial we ensure Star's memory and the outpouring of grief and anger act as a catalyst for the fundamental changes needed to child protection in Bradford and across the country."
The review was commissioned after the death of Star, living in Keighley at the time, and six-year-old Arthur Labinjo-Hughes, both of whom were killed by partners of one of their parents.
It finds that along with failings in Bradford and Solihull, where Arthur lived, there are major issues in children's safeguarding across the country, and the report makes numerous recommendations to prevent such tragedies from happening again.
One recommendation of the report is that every council in the country introduce multi-agency child protection units to "undertake investigation, planning and oversight of children at risk."
Star was murdered by Savannah Brockhill, the parter of her mother, Frankie Smith, on 22nd September 2020, in Keighley.
Brockhill was jailed for life with a minimum term of 25 years for the murder. Smith, 20, who was found guilty of allowing Star's murder to happen, was initially jailed for eight years, but that sentence was later extended to 12 years.
The trial of the pair last year heard that little Star had suffered from physical and mental abuse, and died from catastrophic internal injuries.
Social services, police and health services all had contact with Star in the months before her death, and the newly released report says a lack of communications between different bodies meant warning signs were missed.
It says concerns over Star's safety raised by family had been dismissed as "malicious" – with Smith telling social workers that her family were making these reports because they were unhappy she was in a same sex relationship.
After the trial of Brockhill and Smith it was announced there would be a report looking into the various failings that led to Star's death.
However, in January it was announced that this review would be combined with a review into the death of Arthur Labinjo-Hughes, and a wider study of the state of child safeguarding in the country.
The report found that the two deaths were "not isolated incidents and their deaths reflect wider problems in child safeguarding practice, including poor information sharing between professionals and weak decision-making.
The safeguarding review panel is calling for Government to "strengthen the child protection system at a national and local level so there is a more effective joined-up response."
Coming in at 133 pages, the report goes into depth about the state of children's protective services nationally as well as the interactions between the families of Star and Arthur and social services, police and health bodies.
In the section on Star's death, the panel detailed the numerous times concerns had been raised with social services.
Opportunities to protect Star were being missed even before she was born, with the report saying: "A number of important missed opportunities when Frankie's needs and vulnerabilities as a teenage first-time parent should have been identified.
"Had they been, then some of the risks in respects of her care of Star might have been better mediated and understood."
It goes on to say no ante-natal health visit took place, adding: "An ante-natal visit would have been a moment to engage with Frankie and Star's father, and to understand better the wider family context and how this might impact on Frankie's care of her then unborn baby. It is of concern that this did not take place. The reason given by Bradford District Care Foundation Trust was human error in the context of a service under some strain with high caseloads and reduced funding under a new contract from the local authority."
One referral to social services in January 2020 – a claim that Brockhill had smacked Star – was followed up by an assessment. However, the report says "case notes show a superficial and mechanistic approach to the assessment."
A referral in May 2020 by Star's great Grandmother led to a further visit, where a social worker decided that further action was not needed.
The report says this decision "was not commensurate with the seriousness of the allegations" and that meetings should have been held between police and health services to further look at the allegations.
Smith had claimed that the referral had been malicious due to the couple being in a same sex relationship. The report adds says this claim "was too easily accepted."
It goes on to say: "The actions of Savannah and Frankie misled and manipulated professionals. As is often the case with child protection investigations, getting underneath the surface of what parents and carers may say to understand what is truly happening for children can be extremely challenging.
"Uncovering what was really happening to Star required greater challenge to the self-reported explanations of Savannah and Frankie. There needed to be more forensic follow-up.
"It is unrealistic to expect a single agency process undertaken by an inexperienced social worker to uncover and address these complicated issues.
"There would have been a better chance of uncovering what was happening to Star had statutory multi-agency child protection processes been initiated."
A further referral led to a "virtual home visit" via Facetime, where the social worker did not raise any concerns.
After hearing the case had been closed, the relative that reported the abuse said: "they 'had a strong feeling something bad was happening to Star.'"
They contacted children's social care to say the "would have another Baby P on their case as they are not listening to all the concerns."
Despite this concerns were noted to be unsubstantiated and the referral was regarded as malicious in intent.
Referring to this incident, the report says: "It is not clear why a virtual visit was undertaken rather than a face-to-face home visit.
"Too much weight was given to Frankie and Savannah's self-reported information, and too little time was spent with Star.
"When the assessment was closed to children's social care the 'Signs of Safety' scale recorded by the social worker on the assessment was eight. This meant that Star was considered reasonably, but not completely, safe."
The report also says Star and Brockhill seemed to be engaging in "an emerging pattern of possible avoidant behaviour, seeking to keep professionals and family members at arm's length."
Yet another visit was carried out by an agency social worker in early September, weeks before Star's death.
The report says: "They recorded details of the visit in case notes, but left the local authority before the assessment was completed.
"Their intention to give notice was not apparent to local managers at the point when the case was allocated.
"The assessment was concluded and the case closed without due critical reflection and challenge."
Referring to the state of Children's Services at the time, the report says: "During the period in which key agencies were working with Star there were challenges of capacity across the system.
"In the local authority children's services there was inexperienced leadership and management at all levels. Social worker vacancies and turnover, with high levels of agency staff, affected the capacity to improve practice."
"In 2020, Bradford children's social care service was a service in turmoil, where professionals were working in conditions that made high quality decision making very difficult to achieve."
"There were undoubtedly multiple fault lines in multi and individual agency practice arrangements in Bradford in 2020, some of which are unique to that area. These contributed to the practice issues identified by this review. However, many of these fault lines have been identified in other situations and in other places."
Recommendations include that Bradford:
– Reviews, develops, commissions and resources a comprehensive, early help offer which can be accessed before/during and after the completion of any child and family assessment by children's social care. This will include having a better understanding of "family risk factors" and extra support for teenage mothers over the age of 17.
– Agree clear expectations regarding risk assessment and decision making and these are understood by all agencies. This will include guidance that "no referral is deemed malicious without a full and thorough multi-agency assessment, including talking with the referrer, and agreement with the appropriate manager."
– Jointly review and commission domestic abuse services to guide the response of practitioners and ensure there is a robust understanding of what the domestic abuse support offer is in Bradford.
Helen Westerman, NSPCC Head of Local Campaigns, said: "Star was just 16 months old when she was tragically killed and it's heart-breaking that professionals did not understand what was happening to her in her short life. It's now crucial we ensure Star's memory and the outpouring of grief and anger act as a catalyst for the fundamental changes needed to child protection in Bradford and across the country.
"The review highlights how services were in turmoil in Bradford with systemic problems in how agencies carry out their child protection duties. It paints a picture of information and family concerns not being shared and a system that is under-resourced, with a high turnover of staff due to ineffective leadership.
"It's crucial all partners in Bradford act urgently to adopt the local recommendations and we stand ready to help build effective multi-agency working that has child protection front and centre. But the review tells an all too familiar story of a system struggling to cope. Political will and leadership from the very top of government are now needed to create a system that works to prevent harm and responds decisively to keep children safe in local areas."
Panel Chair, Annie Hudson said: "Arthur and Star suffered horrific and ultimately fatal abuse. But sadly, whilst their individual stories are unique, many hundreds of children are seriously harmed each year.
"At the moment, each professional who comes into contact with a child holds one piece of the jigsaw of what is happening in a child's life. Our proposed reforms would bring together experts from social work, police and health into one team so that they can have a better picture of what is happening to a child, listening carefully to relatives' concerns and taking necessary actions to protect children.
"Professionals working to protect children have to deal with the most complex challenges and some perpetrators of abuse will evade even the most robust safeguards. However, in too many instances, there is inadequate join-up in how agencies respond to high-risk situations where children are being abused."
Education Secretary, Nadhim Zahawi, said: "Star's death was unthinkable, especially for those who knew and loved her. These findings will not undo the pain her death has caused but I am determined that it will act as an axis for change.
"I commissioned an independent national review into the deaths of Star and Arthur Labinjo-Hughes because it was clear there are still some very hard questions to answer about how we protect vulnerable children, despite the improvements made since 2010. I would like to thank Star's extended family for their important contribution to this review and for their perseverance in bringing about change, under extremely difficult circumstances.
"We have already taken urgent action in Bradford by deciding to establish a new children's services trust and have appointed Eileen Milner as Chair, who I know will work tirelessly to drive up standards and improve the outcomes for children living here.
"Alongside this work in Bradford, we will also be setting out a bold implementation plan later this year to bring about a fundamental shift in how children's social care will deliver services."
In response to the report, Marium Haque, Strategic Director of Children's Services at Bradford Council, said: "The murder of Star was devastating for our community. It is something that no one involved in protecting children ever wants to happen.
"The National Panel review sets out some very clear guidance on what we need to do across organisations to strengthen our child protection procedures.
"The review explores issues and identifies areas that we have already taken action on.
"But we will continue to work closely with our staff, local organisations like the police and health, and the National Panel to make sure that everyone involved in keeping children safe fully understands the recommendations and where we still have more work to do to improve.
"We are working alongside the Government appointed Children's Commissioner to make significant changes in how social workers work in our district. We are in the process of setting up a Children's Trust which will deliver further changes we need to make at pace to make sure children in our district are safer."
Kersten England, chief executive of Bradford Council, said: "The murder of Star Hobson was horrific and distressing and I am deeply sorry that opportunities to protect her from such cruel and despicable abuse were missed. Our thoughts are, and always will be, with those who loved her.
"The expert report is tough to read but it is absolutely essential that we understand in detail what went wrong. I accept its findings and assure everyone that firm action has been and will continue to be taken to strengthen our child protection processes and help prevent a tragic case like this from happening again.
"As the report makes clear, the cases of Star and Arthur Labinjo-Hughes highlight many of the problems facing children's social care nationally. I know colleagues up and down the country will be looking at the report to ensure all the lessons are learned from these heart-breaking losses of young lives."
Councillor Susan Hinchcliffe, leader of Bradford Council, said: "The murders of Star and Arthur were truly horrific and should not have happened. On behalf of the Council I want to say sorry to Star's family that signs were missed and that we did not take the action we should have. Rightly both cases have now been scrutinised at a national level and the learning and recommendations will therefore have, not just local, but national significance.
"The review is very clear about the national change needed to strengthen the way in which local councils, the police, education, and health services work to keep children safe. In Bradford, we are fully committed to implementing the findings of this review so that those who work to protect our children can do so in the most effective way possible. We are working closely with the Government to set up our Children's Trust to continue improving the service for children. Star and Arthur's lives were cruelly cut short. It is vital that the report into their murders leads to real change that prevents crimes like these being committed in the future."
Chief Superintendent Robert McCoubrey – Bradford District Commander, West Yorkshire Police, said: "I acknowledge and accept the findings and recommendations put forward in today's report.
"I would like to take the opportunity to reaffirm that our thoughts remain with Star Hobson's family. This report reminds us of the unimaginable distress they have suffered.
"Star was a little girl with her whole life ahead of her, yet she died at the hands of those who should have been there to protect and care for her. The fact that Star's murder took place in Keighley has had a profound impact on police officers, professionals, and communities across Bradford District.
"At the end of last year two women were convicted and sentenced for the roles they played in the appalling abuse and murder of Star Hobson.
"This report now provides a clear determination of how key opportunities for agencies to better protect her were missed. We must all learn from this.
"Protecting vulnerable children is of the highest priority for West Yorkshire Police and we are wholly committed to working closely with our partners in continuing the transformation and improvement of practice.
"We have already reviewed and started to address a number of areas that have been highlighted in the report and will now work collectively to implement all of the local recommendations that have been put forward."
Janice Hawkes, Independent Chair of The Bradford Partnership, said: "On behalf of the Bradford Partnership, I want to say first and foremost that Star's death in such awful circumstances should not have happened and that we are truly sorry that it did. We know agencies let Star down and we must put things right.
"The publication of this thorough and detailed independent review outlines very clearly the opportunities that we missed locally to better protect Star. We have already put in place steps to tackle this but we recognise that there is still work to do and as a partnership we are entirely committed to improving the safety of children across Bradford.
"The report acknowledges, as every social worker, health professional, police officer, and front-line practitioner knows, how complex and challenging working in child protection can be. I welcome the National Panel's recommendations in asking that government put in place a more up-to-date approach with experts from police, health and social work in dedicated teams working together in every local area.
"As the new Chair of the Bradford Partnership, I am absolutely committed to making sure we do everything in our power to strengthen how we keep children safer in our district. But this report is also about steps that we must take nationally to strengthen our approach to children's safeguarding. We owe this to Star, Arthur and their families as well as every child up and down the country."
Robbie Moore, MP for Keighley, said: "This review contains harrowing information about the shocking abuse suffered by Star Hobson in the months before her death, and the cruel neglect and missed opportunities by the very services who were supposed to be protecting Star which could have stopped this horrendous tragedy. Star's death touched each and every person in Keighley and Ilkley, and to learn of the failures which allowed it to happen is deeply concerning to read and totally unacceptable.
"It is shocking that Bradford Council's Children's Services repeatedly did not see the signs of Star's abuse, and in some cases, they chose to ignore them. Concerns made by those who loved Star were rejected and even described as malicious, even as physical evidence of the abuse inflicted on Star was put to them. They turned a blind eye to the way Star was being treated and did not act to enable the support which could have saved a child's life. Just a week before Star's death, a case regarding bruises to Star's face was closed, with no proper analysis of the hurt which had been inflicted.
"The report states that 'assessments were often overly optimistic and lacking professional curiosity', there were 'premature case closures, with risks not fully understood or managed', and there was 'insufficient management oversight or critical challenge'. The Report concludes that 'Bradford children's social care service was a service in turmoil, where professionals were working in conditions that made high quality decision making very difficult to achieve'.
"We have known that Bradford Council are not fit for purpose with regards to protecting our children, and the evidence in this report lays this bare. The decision by the Government to strip Bradford Council of their responsibility for Children's Services earlier this year was entirely the correct decision, and as acknowledged by the Report, this decision just highlights 'the scale and depth of systemic problems in Children's Services in Bradford'.
"It is simply not enough for the Council Leader Susan Hinchcliffe and the Chief Executive to have both apologised for what has happened. Let's be clear, they have both presided over a clear incapability of local institutions to protect children. The Chief Executive has been in place since 2015, and since children services was put into special measures in 2018, there has been no improvement. The Chief Executive has completely failed to deal with these problems, propped up by a weak Council Leader who is not strong enough to hold her to account. For the sake of getting proper positive change for all within the Bradford District including Keighley, they must give way and resign their positions for more capable individuals so we can truly move forward and protect vulnerable children in our area."