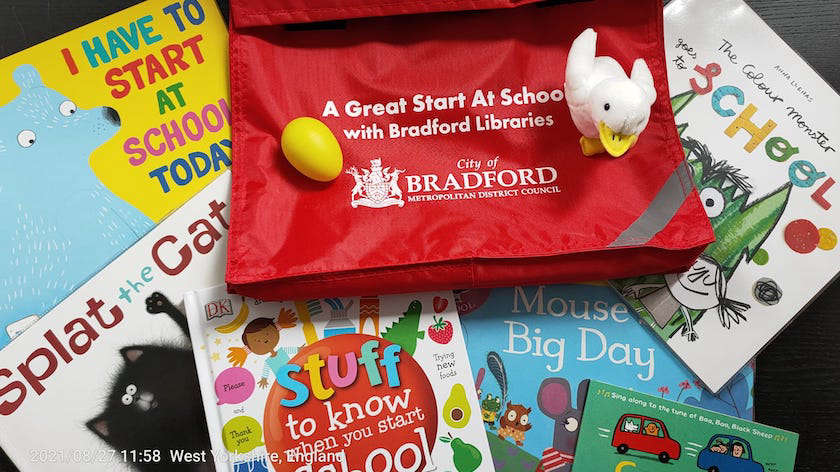 Families with 4 and 5 year olds starting school for the first time this month can borrow a special pack from Keighley or Ilkley library to help them get settled.
The 'Great Start' bags from Bradford Libraries contain a range of books designed to engage, enthuse and excite children about starting school - along with a musical toy and rhyme sheet plus a finger puppet for re-telling stories. They also include a survival guide for parents and carers to help make their child's move to primary school stress-free and fun.
The bags are available to borrow from Friday 3rd September at the libraries in Ilkley and Keighley as well as a handful of others across the Bradford district. They can be loaned for 3 weeks on an adult ticket.
Libraries Connected Yorkshire and Humberside provided funding for the 90 bags which were developed by Bradford Libraries so that families can be encouraged to read together with their children and support their transition to primary school.
During July 2021 the bags were loaned to parents in a pilot scheme with Copthorne Primary School. One parent said: "The bag has helped me immensely. My daughter enjoyed the books and characters and is excited to start school. She thinks it will be fun now but before she always said "No, I don't want to start school."
Cllr Sarah Ferriby, Bradford Council's executive member for Healthy People and Places said: "Bradford Libraries' new Great Start bags are a fantastic way to introduce children and families to the ideas around school readiness.
"The books inside are amazing and the survival guide will be really useful for parents at this time of transition."