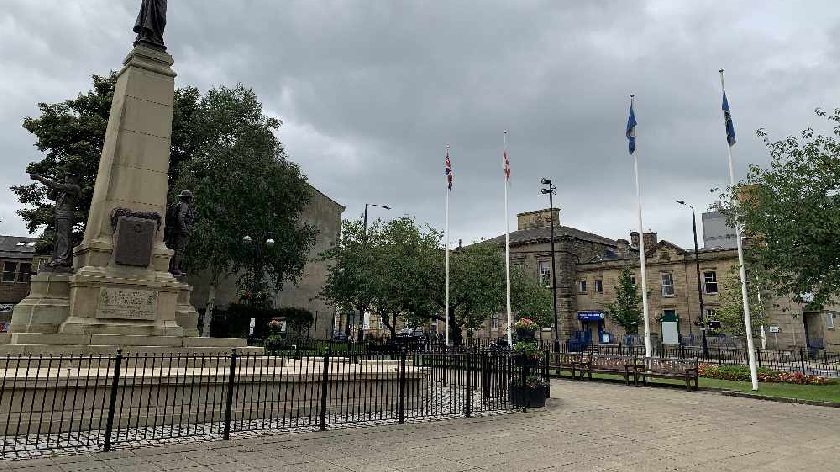 Keighley MP Robbie Moore says protests in support of Palestine being organised to coincide with Armistice Day next weekend are 'wholly inappropriate'.
It's understood demonstrations calling for a ceasefire in Gaza are due to be held in Keighley's Town Hall Square next Saturday (11th November) as well as this weekend.
Robbie Moore said: "To plan any protests in close proximity to Keighley's Cenotaph on Armistice Day, or indeed Remembrance Sunday, is provocative and in my view completely disrespectful.
"I firmly believe in the right to peaceful protest - but there is a time and a place.
"Armistice Day and Remembrance Sunday are two very special days within the calendar. They hold profound significance for our nation, when we come together to remember and pay our respects to the brave men and woman who have served, and given their lives for our country. The Cenotaph is a symbol of remembrance and holds a special place in the hearts of many in our community, including local families who have recently lost loved ones in conflict.
|As such, I firmly believe that holding protests next to our Cenotaph is wholly inappropriate.
"The right to remember in peace and dignity those who have paid the ultimate sacrifice for our country and the freedoms we all enjoy must be protected.
"I am therefore calling on those involved in organising such protests to reconsider their plans."
The comments come after the Prime Minister Rishi Sunak also said that a planned pro-Palestinian march in central London on Armistice Day would be "provocative and disrespectful".
The Metropolitan Police has said it's planning a 'significant' operation and that organisers have told them they are willing to avoid the area of Whitehall where the Cenotaph is.
Pro-Palestinian protests have been taking place in the capital and other cities - including in Bradford last weekend - every Saturday since the Israel-Gaza war began last month.
Rishi Sunak said: "To plan protests on Armistice Day is provocative and disrespectful, and there is a clear and present risk that the Cenotaph and other war memorials could be desecrated, something that would be an affront to the British public and the values we stand for."