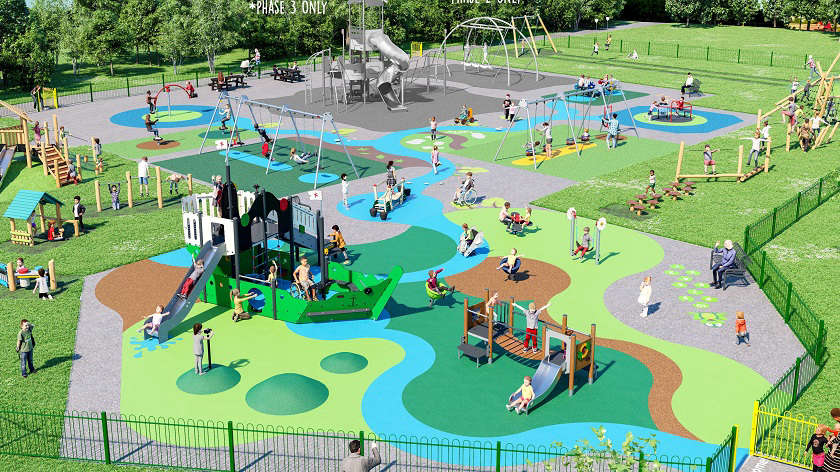 A handful of local play areas will get much needed upgrades in the next stage of a multi million scheme to boost facilities.
The Playable Spaces Strategy is a £6.4m investment by Bradford Council that has already seen a major upgrade of the play area in Lister Park just off the A650 – the busiest play area in the district.
This week the authority announced which play areas will be getting upgrades as part of the £1.6m second wave of works.
Work has already started at three popular play areas – at Riverside Park in Ilkley, Central Park in Haworth and Myrtle Park in Bingley.
Work will start on the remainder of the play areas in the coming months.
As well as much needed repairs and improvements to equipment and facilities across the District, the work will also include new facilities at a number of locations.
In total, 33 play areas will be included In the second and current phase of the refurbishment programme this year.
These include seven of the larger play areas, fourteen "local and neighbourhood play areas" and five "doorstep play areas" as well as seven other sites needing urgent repairs.
A third and final phase of the five-year long refurbishment programme will then begin to deliver works at the remaining sites in the District that require significant maintenance and refurbishment.
Councillor Sarah Ferriby, portfolio holder for healthy people and places, said: "This investment will make sure our young people have better play spaces they can grow and develop in, fit for the twenty first century.
"Children have had a difficult couple of years and it's even more important that they have the facilities they need to get outside, use their imaginations, make friends and make some lifelong memories.
"Play is an important part of ensuring children have a happy and healthy childhood. It helps them development socially as well as in terms of dexterity, balance and muscle control – which is why this investment in our playable spaces is so important."
The play spaces receiving investment in this phase...
Destination/Green Flag and/or town centre play areas
Riverside Park, Ilkley
Central Park, Haworth
Cliffe Castle / Devonshire Park, Keighley
St Ives Estate, Bingley
Roberts Park, Shipley
Peel Park, Bradford
Harold Park, Low Moor
Local/neighbourhood play areas
Myrtle Park, Bingley
Russell Hall Park, Queensbury
Eversley Drive, Holme Wood
Brackenhill Park, Great Horton
Victoria Park, Thornton
Horton Park
Bradford Moor Park
Eldwick Recreation Ground
Highfield Recreation Ground, Keighley
Windy Hill Park (Recreation Ground), Shipley
Upper Seymour Street, off Leeds Road
Ravenscliffe Community Centre Play Area
Amberley Street Play Area, Barkerend
"Doorstep" play area refurbishments
Jerr Wood Play Area, Bingley
Litton Street, Keighley
Longlands Farm, Keighley
Back Derby Place, Bradford East
Woodlands Play Area, Bradford South
Urgent and minor urgent refurbishment
Utley Recreation Ground
Springwood (Parkwood) Street, Keighley
Northcliffe Park, Shipley
Cliffe Avenue Play Area trim trail, Baildon
Middleton Avenue skate park, Ilkley
Eccleshill Park skate park
Teen shelter at Holden Park, Oakworth