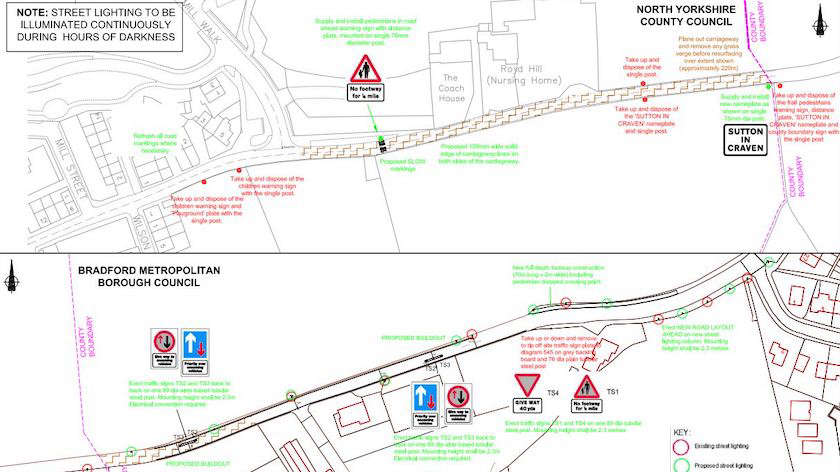 Measures to improve safety on a stretch of road linking Eastburn and Sutton-in-Craven are being proposed following the death of a 9 year old boy.
George Lewis died after being hit by a vehicle on Sutton Lane last September, as he walked home with his dad and brother.
The road has around 400 metres where there is no pavement or verge, prompting community concerns about pedestrian safety.
Now Bradford Council and North Yorkshire County Council have been working together to come up with improvements for the road - and local people's views are being sought on the proposals.
The plan includes new and improved warning signs to better alert drivers that there may be pedestrians in the road; carriageway resurfacing; new road markings; improved street lighting; extension of a pavement; and the introduction of two traffic-calming build-outs to narrow the carriageway and reduce vehicle speeds.
Local people are invited to a drop-in session at Sutton in Craven Community Centre next Tuesday (21st June), between 4pm and 7pm, where they will be able to review the proposals and speak to officers. In addition, details of the proposals can be seen online by tapping here and comments can be sent to Area5.Skipton@northyorks.gov.uk.
The joint action by North Yorkshire and Bradford traffic and road safety engineers follows community concerns about pedestrian safety and the death of nine-year-old George Lewis in September last year in a collision with a vehicle as he walked along Sutton Lane with his father and brother.
The two councils say providing footways to connect Eastburn and Sutton would require the purchase of private land. This has not been possible to date, but they say efforts to secure the additional land and explore alternatives continue.
North Yorkshire County Council's executive member for highways and transportation, Cllr Keane Duncan, said: "Our thoughts are with the family of George Lewis. His tragic death means it is particularly important for local people to have a say on these plans.
"While the constraints of the road limit the options, officers have been able to develop a scheme to better warn drivers of the presence of pedestrians and to provide pedestrians with as much space and security as possible.
"The proposed measures offer much-needed improvements that can be delivered quickly. We will strive to do even more by working in partnership with the community and our Bradford Council colleagues."
Councillor Alex Ross-Shaw, Portfolio Holder for Regeneration, Planning and Transport for Bradford Council, said: "This was a deeply sad and tragic incident and our thoughts remain with the family and friends of George Lewis.
"Working with our colleagues in North Yorkshire, we are very keen to do everything we can to prevent this from every happening again and encourage everyone to take part in the consultation which covers a range of additional proposed safety measures."
If the public response to the proposals is favourable, arrangement are in place to begin the work as soon as possible.