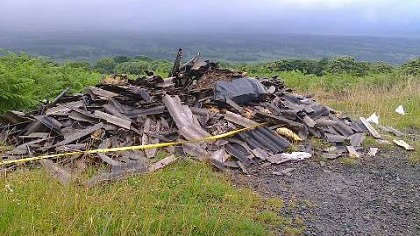 Extra investment in mobile CCTV cameras to catch fly-tippers is already paying off for Bradford Council.
Earlier this year councillors approved an extra £300,000 in the budget to fight environmental crime, an investment which included funding for more cameras.
Environmental enforcement officers are now reaping the benefit by using them in fly-tipping hotspots around the district, including rural areas.
Recent targeting in and around the village of Oxenhope, near Keighley, has caught a number of fly-tippers red-handed, landing them with Fixed Penalty Notices (FPNs) of £400, or court prosecutions.
Exact numbers of FPNs or prosecutions will be collated later in the year as cases are still working their way through the legal process, but officers are already expressing satisfaction that the extra investment has already delivered value for money and are confident it will continue to be successful.
Cllr Sarah Ferriby, Bradford Council's Executive Member for Healthy People and Places said: "Fly-tipping is a national problem which has been increasing everywhere in the country in the last few years, but we are determined to try to stem the tide.
"Every penny we spend combating this illegal behaviour is putting an extra burden on our Council Tax payers and taking money which could be used for other essential services such as social care and education.
"But It is becoming clear that this has been a very sound investment and we are getting some good results already.
"We will do everything we can to build on this recent success and take the fight to those anti-social elements who seek to damage our environment and our communities.
"There are plenty of ways to dispose of extra waste legally and cheaply so there is no need for rubbish to be dumped in our streets and in the countryside.
"The extra CCTV cameras will give us the opportunity to prevent more fly-tippers getting away with their crimes and - what is most important - persuade potential fly-tippers to think again."
If you see fly-tipping taking place, please note down as many details as possible, including vehicle licence plate numbers and inform the Council.
Fly-tipping can be reported be calling the Council 01274 431000 or online at www.bradford.gov.uk.