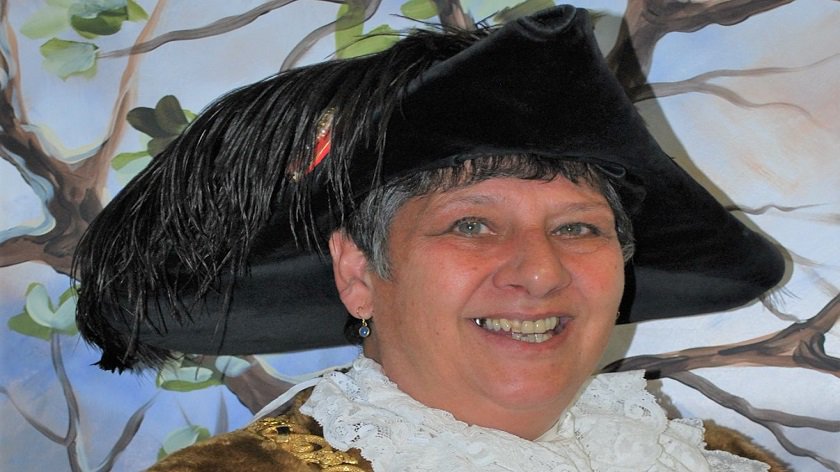 Keighley's new Town Mayor Cllr Julie Adams
On Thursday 20 May, Keighley Town Council elected its new Town Mayor and Deputy Town Mayor for the forthcoming year. Cllr Julie Adams was elected as Town Mayor and Cllr Luke Maunsell was elected as Deputy Town Mayor.
Cllr Adams, a Councillor for the Fell Lane & Westburn ward, was first elected to the Council in 2015 and has previously served as Chairman of the Policies & Governance Committee and served as Deputy Mayor throughout 2020/21. Following her election, Cllr Adams commented, "I am extremely proud to have been elected Town Mayor. I am truly humbled by the trust put in me by my colleagues. As we start to move out of lockdown and beyond the pandemic I look forward to meeting as many organisations, charities, voluntary groups and businesses as I can throughout my year."
Cllr Adams will be joined by her husband Chris Adams as the Mayor's Consort. The Mayoral Charities will be Sue Ryder Manorlands Hospice and Martin House Children's Hospice.
Alongside Cllr Adams, Cllr Luke Maunsell was elected as Deputy Town Mayor. Cllr Maunsell, who represents Oakworth was first elected in 2015 and has served as Chairman of the Allotments & Landscapes Committee.
Cllr Maunsell commented, "Over the next twelve months, I look forward to working with the new, brilliant Town Mayor Cllr Julie Adams as well as all of my fellow Councillors and residents to further the mission of the Council and push for constant improvements to every aspect of our work."
"I promise to do this with integrity, honesty, transparency, openness and impartiality and will work with everyone, regardless of their political views, to serve the people of this great town."