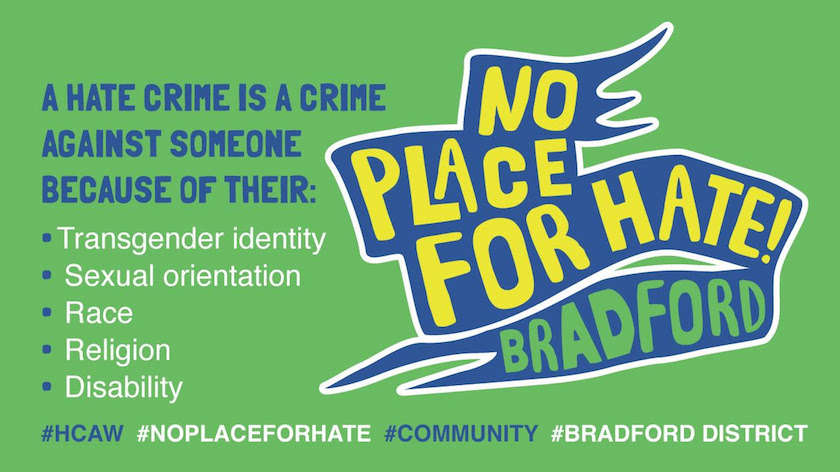 People from across Keighey, Ilkley and the wider Bradford district are coming together for Hate Crime Awareness Week to help make the area more tolerant.
Bradford Council has developed a new Hate Crime Strategy for 2021-24, with input from the Bradford Hate Crime Alliance, West Yorkshire Police and Victim Support.
Officials say it's an opportunity to continue to address hate crime across the district and challenge prejudices and behaviours that lead to hate crimes, in turn building a better, stronger, and safer community.
A new app designed to make reporting hate crimes easier and give confidence to those reporting the crimes is due to be launched in the coming weeks. The app has been designed to be simple to use, giving people the confidence to report crimes as they see them or if they are the victim.
Throughout Hate Crime Awareness week, events are taking place to keep the conversation active and help bring about change. Hate Crime Awareness events have been organised for both the Bradford African and Eastern European communities. Several of the district's main organisations working in the hate crime space such as Bradford Council, Bradford Hate Crime Alliance, West Yorkshire Police, Victim Support and Restorative Justice will be there to explain their roles, clarify what a hate crime is, where and how it can be reported, and facilitate a question and answer session.
Bradford City Football Club has also agreed to use the home game against Bristol Rovers on 16th October to raise awareness of hate crime by displaying information around the stadium and on the large screen. A 'Root out Racism' banner will be paraded around the pitch by community representatives, and in advance of this match, video messages from players will be shared on social media to coincide with hate crime awareness week.
Bradford Council Leader Cllr Susan Hinchcliffe said: "There is no room in the district for any form of hate and we are committed to tackling hate crime head-on. The new strategy outlines how we can work together as a community to eliminate hate crime from our district. We can all support this new plan for change.
"I am pleased with the schedule of good events taking place in the district throughout Hate Crime Awareness week. This shows that people want to get involved in making these positive changes. We can achieve much more in the district when we are united by shared values, common goals and collective pride."
Charles Dacres from Bradford Hate Crime Alliance wants this to be an opportunity to start conversations on the community. He said: "I hope the announcement of the new strategy will bring hate crime awareness to the forefront of people's minds. I don't think people realise that anyone can be a victim of a hate crime. I hope the national hate crime awareness week and events taking place will prompt conversations and remind people there is help and support out there for victims and anyone who witnesses a hate crime."
Cllr Abdul Jabar, portfolio holder for neighbourhoods and community safety on Bradford Council, said: "I am really pleased we have so much going on in our district for Hate Crime Awareness Week, I know all year round the Bradford Hate Crime Alliance and other key partner organisations are working hard to highlight issues and make sure people know where they can get support but I think having this week in the calendar and launching the new strategy is the perfect way to remind people that there is help out there and no one should feel alone."