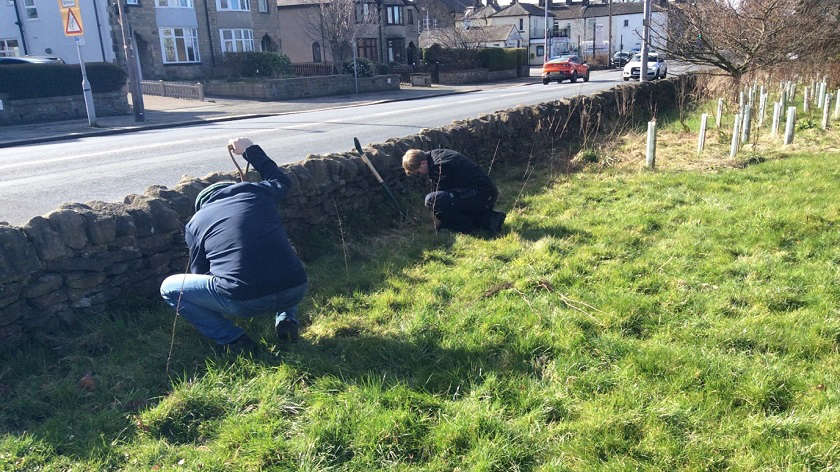 Volunteers planting the trees around the site
Over 150 new tree whips have been planted at the Airedale General Hospital site in Steeton.
The 2–4-year-old trees, including varieties of English Oak, Blackthorn, Goat Willow, Beech, Bird Cherry and Field Maple, are an addition to the 2,300 trees that were planted around the site as part Airedale's Woodland Walk.
Sam Barlow, Gardening Supervisor says: "The pandemic really showed how much we appreciate going outside and spending time in nature.
"I've always been a believer in the natural environment as a healer and research has shown that being around plants and nature can help people with their mental health and wellbeing.
"The new trees will help to tie the Woodland Walk together and create a very peaceful area."
The 150 trees have been planted at the top of the site by members of the AGH Solutions Gardening team and volunteers from the Trust.
The whips were donated by NHS Forest, an initiative run by the Centre for Sustainable Healthcare charity to encourage health sites to transform their green spaces.
In 2022, Airedale NHS Foundation Trust launched an ambitious Green Plan which set out its approach to tackling climate change. The plan contains several initiatives to help reduce the Trust's carbon footprint, including promoting access to green spaces.
The walk itself is approximately 1.3km long, goes through 12 species of trees and gives visitors, staff and patients a glimpse into the variety of wildlife that is present on the hospital site.
Airedale is currently home to 11 species of birds including Oyster catchers, Robins, Starlings and Woodpigeons and Sam believes the new trees will help the wildlife to thrive: "Trees play a vital part in nature and provide spaces for birds to nest and shelter for bugs and beetles.
"We will also be creating bee bankings around the area to encourage more wildlife to flourish."
Airedale Hospital and Community Charity has also funded ten bird boxes that will be installed around the site to help encourage more wildlife to the area.