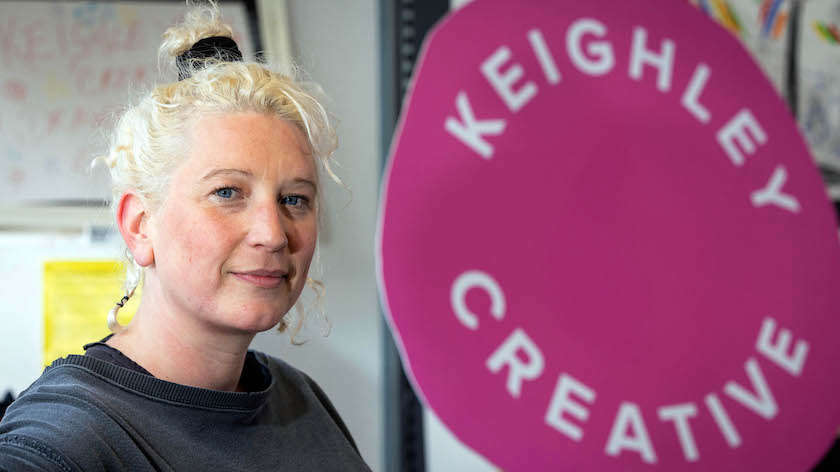 Local arts charity Keighley Creative has appointed Aimee Grundell to be its new festival and events director.
Aimee says she will use her 'sheer belligerent enthusiasm' to ensure the town enjoys a unique Keighley-esque festival this year.
The annual Keighley Arts and Film Festival takes place in October and the new appointee has a brief of establishing the event as a major fixture on the culture calendar.
Aimee is no stranger to the town, having organised last year's acclaimed K-Town Shopper event in collaboration with Keighley Creative. She has also worked with the charity on the Our Street Gallery project.
She said: "I've come to Keighley Creative because I love Keighley.
"I just really like Keighley people; they're like people I grew up with. I suppose I understand them and I just think of the possibilities in a place where there aren't many possibilities or a lot of opportunity – you can kind of get away with doing quite amazing things here.
"You've got people who are willing to get involved. And what I like to do is all about people. Keighley is full of different cultures. It's small enough to be able to do something big enough, that can have an impact as well."
The new director was born in Dewsbury and grew up in Bradford. She bought her first house in Haworth after returning north when she completed her studies in London. She's worked in the music industry, publishing and has for some years run a successful design company based in Calderdale.
"This year, as I'm new to the post, I'll be running things up to the October festival," she said. "There will be a few things that have already been put in place. I'll try and make those as big and as special as they can be. But my aim and ambition is to create a Keighley festival growing year on year, and to happen in the summer months rather than the winter months and for it to be a very Keighley-esque festival, and events that are different from what you get anywhere else.
"So we're not going to say: Bradford did this and it was successful, or Leeds did this and it was successful. I'd like it to be a Keighley-orientated; for the people, by the people event that makes sense to the community and all the different people in the community."
The K-Town Shopper event took place in the former Sunwin House department store on Hanover Street.
Ms Grundell said: "With K-Town Shopper, we took over the old store where Keighley Creative was based, and we put on a massive event for local businesses.
"There were two elements to what we were trying to achieve. One of them was with an arts budget – your standard arts installations budget. But in Keighley I realised art is quite a scary word, so we also took another bit of budget from the lack of footfall since Covid and how people had struggled, with people not going out and experiencing things any more. So it was a challenge of how can we get people to come along and experience something, be part of something, using art, without necessarily calling it art.
"It was just creativity, just a creative challenge about how we could get those businesses to shine a bit more and to encourage people to form relationships. Because in my world, getting people to come to your shop is about creating relationships with people and having that loyalty there. That's something that the people of Keighley are very good at doing.
"We took over the shopping centre and made it this kind of anti-capitalist, anti-corporate big-business thing and said: let's take the shop-local idea and do something a bit different with it and see if we can educate people into thinking differently about how they shop and where they shop, and for what purpose, which I think is a really big issue at the minute, especially when you talk about sustainability.
"I was the one wandering around with the trollies, the t-shirts and the newspapers, with a bunch of other people who gave their time for free to come and get involved in something that was quite special and quite good fun as well."
She believes art can be a force for good in people's lives.
"Sometimes it can take only one thing to change people's path and what they think is possible. I think that's why art is important because it can literally open people's eyes to something completely different and change the way people see things as well.
"I'm really interested in young people and doing stuff for them because I'm aware there is a big problem with unemployment with youth in Keighley – it's the highest in the area. That's one of my drivers: to get kids thinking out of the box about what is possible and feasible for them, because that's how I came to do what I do and I think it's a really important message to make sure, that actually there are amazing things you can do with good people power.
"We don't have a lot of money, but I'm hopeful that, with my sheer belligerent enthusiasm, which I get from my Bradford grandfather, I'll be able to do something."
Aimee Grundell takes over from the previous festival and events director Madeleine O'Reilly, who has taken up a post with the National Theatre. The Towns Fund provides support for the Keighley Creative post.
Gemma Hobbs, Keighley Creative's creative director and general manager, said: "We are really excited to welcome Aimee Grundell to the Keighley Creative team. Alongside events all year round, Aimee will lead on Keighley's Art and Film Festival, which will take place from 6-8 October this year.
"Aimee is a bundle of creative energy, and she first worked with us on the K-Town Shopper weekend event in 2022, a town-wide celebration of local independent businesses and creativity that attracted more than 2,000 people into Keighley to shop and have fun. It was a huge success, and bringing Aimee's production skills and imagination into the team comes at the perfect time, making sure Keighley is well placed to be a part of Bradford's City of Culture year in 2025 – and beyond.
"Departing the team, having delivered a fantastic festival in 2022, Madeleine O'Reilly will be greatly missed, having built lots of great relationships in the town. We thank her for helping to shape our work as a charity, supporting the creativity and community-spirit that Keighley has in abundance."