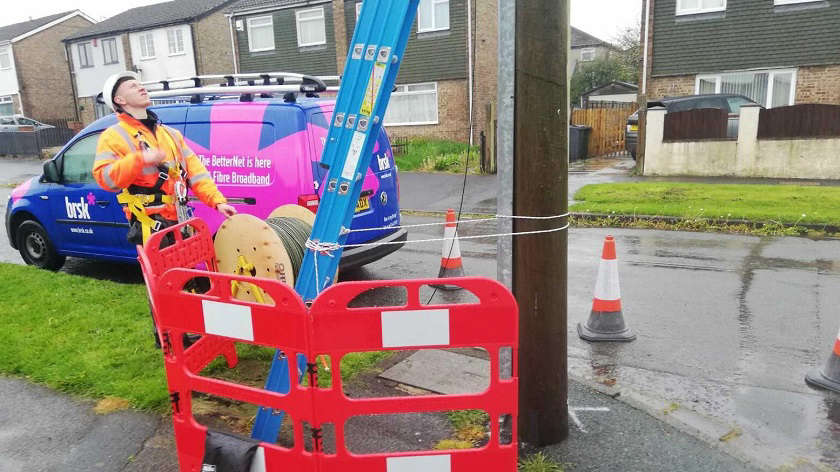 New broadband provider, Brsk, has announced that it is rolling out 1 gigabit full-fibre broadband to more than 25,000 homes and business across all of Keighley from the end of July.
• Covering Utley, Braithwaite, Oakworth, Long Lee, Ingrow, Exley Head and Thwaites
• Residents will be able to try their 1 gigabit per second service, for free, for six months. With no obligations.
• No more long term contracts. Broadband packages start at £33 per month for their 100mbps service, £39 for 500mbps, and £49 1 gigabit.
A new broadband provider called brsk (pronounced brisk) has announced that the installation of its full-fibre network is underway for all homes and businesses in Keighley which it expects its first services to go live towards the end of July 2021,
Brsk are already delivering 1 gigabit speeds to customers in the Cottingley area of neighbouring town Bingley. They recently completed their rollout there, and now brsk's first customers are enjoying the benefits of full fibre broadband to their home.
Upgrading to 1 gigabit broadband will allow customers in Keighley to stream 4k media across multiple devices at the same time, while members of the household can browse, take video calls and play games without impacting anyone else's online experience.
Brsk says the investment will deliver full-fibre broadband to over 25,000 homes and businesses covering all of Keighley, including Utley, Braithwaite, Oakworth, Long Lee, Ingrow, Exley Head and Thwaites.
Brsk will be installing new fibre cables throughout the area using existing poles and underground ducts, which means disruption to the community will be kept to a minimum. Once the fibre cables are installed into the area, residents who want to connect to a broadband service can place an order for fibre cable to be installed from the street into their home.
Commenting Robbie Moore, local MP for Keighley, said: "The Keighley constituency has been under-served by high-street broadband operators for some time now, and it's clear in this new era of home working that fast Internet connectivity is vital in supporting our community to secure flexible and competitive jobs. As part of my plan to bring ultrafast broadband to Keighley, I look forward to working closely with brsk to see that Keighley gets the great service it deserves and needs as we build back better from the Covid pandemic."
Giorgio Iovino, Brsk founder and CEO, said: "The Internet has a transformative impact on people's lives. This is an opportunity to free Keighley from long term contracts, poor service and unreliable broadband. We're excited to announce that we are letting the local community try our 1 gigabit per second service, for free, for six months. No obligations."
Full fibre uses fibre-optic cables to deliver broadband services to premises (Fibre to the Premises, FTTP), providing faster speeds and more reliable service than copper-based networks (Fibre to the Cabinet, FTTC). FTTP Networks like these boost local economies by providing jobs, making property more saleable and enabling a much more attractive base for businesses and home workers alike.
Brsk will soon be adding a voice phone service (which uses your internet connection to make calls, like calls on WhatsApp or FaceTime). This means you can keep your current landline number and move away from your old and unreliable copper line.
Customers who want to try out 1 Gigabit broadband service for free for six months can check their coverage at www.brsk.co.uk and either sign up as part of the launch special, or register their interest for updates for the rollout to their area.