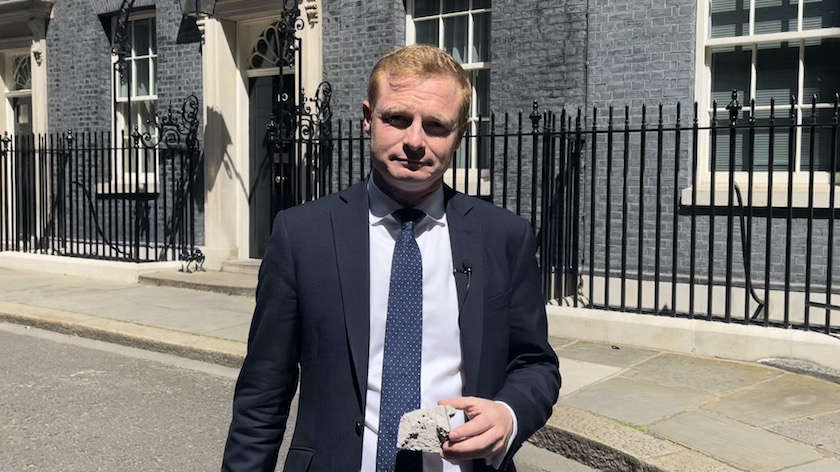 Keighley and Ilkley MP Robbie Moore took a piece of aerated concrete with him to a meeting at Number 10 Downing Street this week as part of his campaign to get Airedale Hospital rebuilt.
One of the key reasons behind the argument for a new Airedale Hospital is that the hospital is made predominantly from aerated concrete, which is known for its structural deficiencies. Aerated concrete is present in over 50,000 panels in the hospital (five times more than any other hospital in the UK) and it is the only one in the country to have aerated concrete in the floor panels, as well as the walls and ceiling.
Inspections of the hospital have found 500 structural failure incidents caused by aerated concrete, including 27 cracked panels and an incident of falling debris. There are currently wards closed due to structural risk and associated structural failure.
Determined to demonstrate just how urgent this matter is, Mr Moore passed around a physical piece of the aerated concrete from Airedale Hospital during the meeting in 10 Downing Street.
He has previously held his own personal debate on securing a new hospital in Parliament, and has met with Prime Minister Boris Johnson and Health Secretary Sajid Javid to lobby for a new hospital and push for the funding required. The MP has also raised the issue twice at Prime Minister's Questions. Last year, The Airedale NHS Foundation Trust submitted its bid to be one of the Government's 48 new hospitals, and this bid is currently under consideration.
Robbie Moore said: "The Airedale Hospital needs and deserves a full rebuild, and I will not stop until this is delivered. This meeting was the latest of many in which I have raised this matter with those at the top of Government, including holding my own debate in the House of Commons on this very important topic. I have also directly lobbied the Prime Minister, the Chancellor and Health Secretary.
"The dangers of aerated concrete are clear for everyone to see. I made sure to take a piece of the fallen debris from the Airedale to my meeting at Downing Street to show just how urgent an issue this is, and to highlight that time is of the essence and that no sticking plaster approach will work. I again made the case very strongly for a full rebuild.
"It is fantastic the Government have pledged to deliver 48 new hospitals, and I commend the work of all the staff at the Airedale who are doing all they can to make sure we are one of them. Our bid is submitted, and I will continue to lobby hard, as we need hospital which is fit for the future."
🏥 I met team at @10DowningStreet to again raise issue with @BorisJohnson of our need for a new rebuild of Airedale Hospital.

Vast majority was built from aerated concrete 50+ years ago, & it's now known for its structural deficiencies.

We need new rebuild 🎥👇@AiredaleNHSFT pic.twitter.com/ksWN7wstTP

— Robbie Moore MP (@_RobbieMoore) June 15, 2022