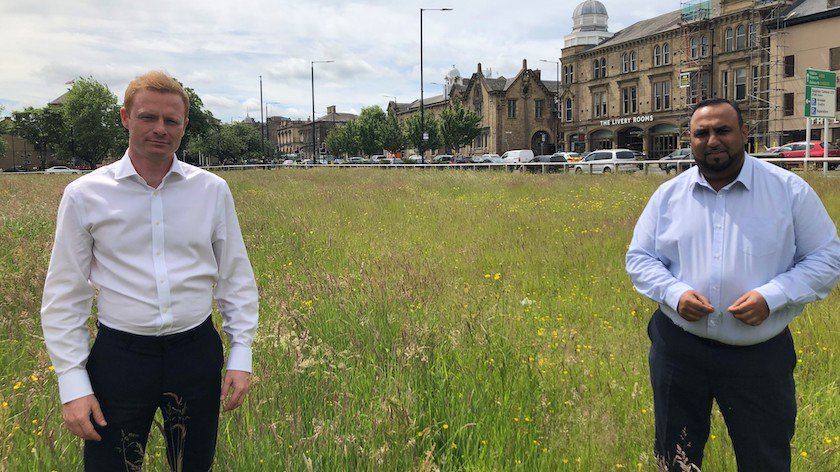 Around two thousand people have signed a petition calling for the former Keighley College site in the town centre to be retained as a green space.
The land on North Street opposite Wetherspoons is owned by Bradford Council and has been earmarked for development for a number of years since the former college building was demolished.
Now Keighley & Ilkley MP Robbie Moore and recently-elected Keighley Central councillor Mohammed Nazam have teamed up to campaign for the space to be kept as an open space for use by the community.
A recent survey undertaken by the Keighley-based Captain Tom Memorial Commission showed that a majority of people were in favour of turning the land into a memorial park in memory of Captain Tom, with some suggesting that the park should be dedicated to both Captain Tom and local historian Ian Dewhirst.
Robbie Moore said: "The future of this land should be decided by the people of Keighley, not by Bradford. It is clear from what I have heard that the people of Keighley want this land to remain as open green space, landscaped for us all to be able to enjoy. A place for people to relax and reflect, and for wildlife to prosper. Ignoring these wishes would be another failure to listen by Bradford Council.
"There are plenty of brown field sites in and around Keighley which are prime for development. Let's use these sites, and treasure our limited green spaces, especially the green space right in the centre of town."
District Councillor Naz Mohammed added: "The vast majority of people in Keighley want this space remaining as a green space. Along with Robbie Moore MP, I strongly oppose any development on this site and would like to send a clear message to the Labour administration at Bradford Council that they should listen to the voice of Keighley and keep it green".