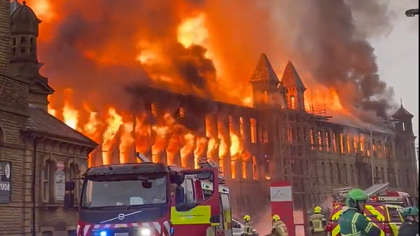 Dalton Mill Fire - credit: @Optimumfirework
Firefighters are currently tackling a large blaze at Dalton Mills in Keighley.
West Yorkshire Fire & Rescue Service say they fire crews in attendance from 16 local fire stations, with more than 20 appliances and specialist aerial units. Fire officers say 100 percent of the building is involved in the fire.
As there is a lot of smoke in the area, residents are advised to keep doors/windows closed. People are also asked to avoid travelling through the area.
The Victorian building has been used as a location for Peaky Blinders and Downton Abbey.
There is currently no information about how the blaze started.
Bradford Council has opened Keighley Leisure Centre as a rest centre to provide shelter for residents affected by the fire.
Keighley MP Robbie Moore posted on social media: "Extremely concerning scenes at Dalton Mills in Keighley. Hoping & praying everyone is safe during this horrific incident.
"Huge thanks to emergency services for getting to scene so quickly."
Dalton Mills in Keighley up in flames currently. @BBCLookNorth @itvcalendar @Bradford_TandA pic.twitter.com/cfwTvJmB1w

— Optimum Fireworks (@Optimumfirework) March 3, 2022
⚠️INCIDENT DALTON MILLS

Road closures in place, please avoid travelling through the area.

Please keep doors/windows closed

Neighbouring brigades & partner agencies are also in attendance

For more: https://t.co/sBWrfU7Qb7 pic.twitter.com/hFGNNNH2pa

— West Yorkshire Fire and Rescue Service (@WYFRS) March 3, 2022
We have opened The Leisure Centre, Keighley as a rest centre to provide shelter for residents affected by the fire at Dalton Mills in Keighley. https://t.co/QUkmcNlZAu

— Bradford Council (@bradfordmdc) March 3, 2022
Extremely concerning scenes at Dalton Mills in Keighley.

Hoping & praying everyone is safe during this horrific incident.

Situation ongoing.

Huge thanks to emergency services for getting to scene so quickly.

If anyone needs assistance from me please call office: 01535 600538. pic.twitter.com/6dj7H71WI8

— Robbie Moore MP (@_RobbieMoore) March 3, 2022
Dalton Mills Keighley. Little piece of history destroyed. pic.twitter.com/6gkwBXghBj

— bethanyMc (@bmcc63) March 3, 2022