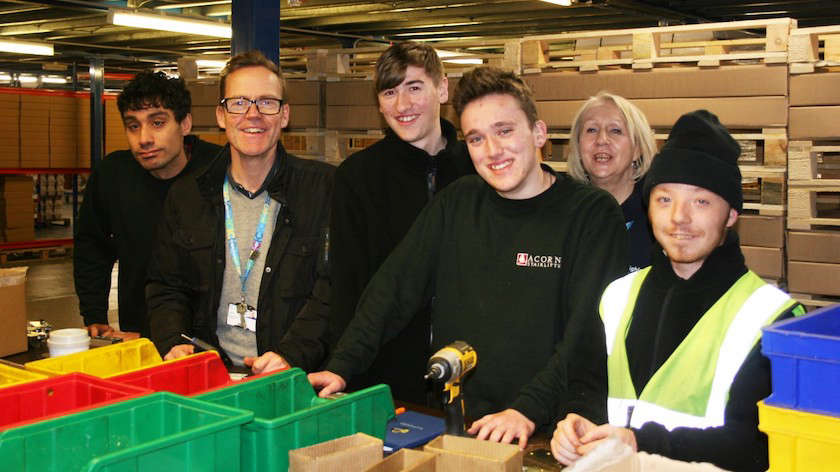 Keighley College's Principal has put in a shift at Steeton-based Acorn Stairlifts as he visited a group of students from the college who are on a supported internship programme there.
Kevin O'Hare had been invited by the students themselves, who spend two days a week with the firm alongside their studies.
He said: "I was asking them about their work at Acorn. They said it was great and that I should come along and 'do some real work' too!"
The college's partnership with Acorn has been running for three years, and four previous interns have gone on to secure jobs with the company. The current group of four students – Jason, James, Jordan and Kenny – work at Steeton on Thursdays and Fridays, supervised by Acorn staff and their own mentor, Fran Day.
Fran said: "All the supported interns have Education Health and Care Plans (EHCPs), which means they need a little more support initially, until they find their feet.
"I'm here to supervise them at first, then gradually pull back so they can work independently. They learn about productivity and work ethic, but really they just want to work."
Ryan Baron, Production Manager at Acorn's Steeton factory, said: "The supported interns are brilliant, they're hard working and have fitted in really well. The work they do – assembling components for our stairlift rails – is work that our guys would actually be doing on the line.
"We move it off the line until they get the hang of it, but they still have to meet demand for the components and they don't let us down. The work they're doing helps them to gain skills and experience and helps us too, so the partnership with the college benefits us both."
Kevin O'Hare, Keighley College Principal, said: "It's a brilliant opportunity for the students to understand what life's like in a working environment, seeing the different processes and how the workplace is structured, from the reception, the canteen, right through to the factory floor.
"It's a valuable experience, and we often forget how important that is. The work is important, but the context of the work is too. It's what I call residual learning – it's about social interaction, navigation, orientation, timekeeping.
"It's not on any curriculum or part of any course programme, but these are valuable life skills we all need to acquire."