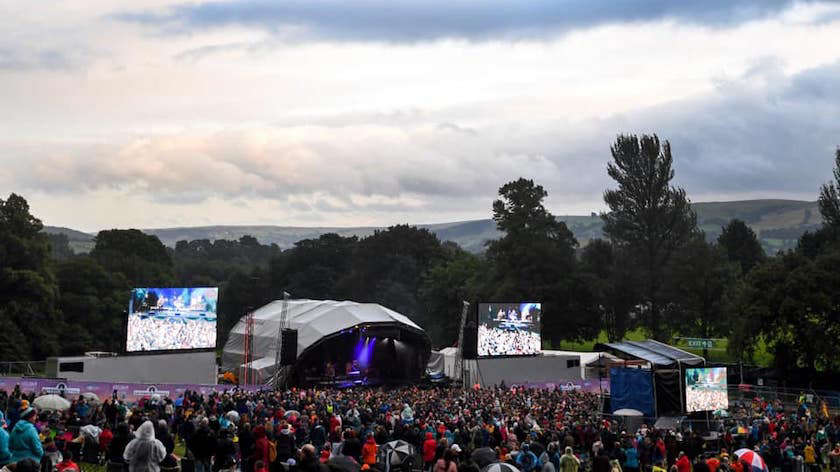 Eight acts will perform this Friday night in Keighley hoping to win a place on stage at the Gateways Festival in Skipton's Aireville Park this summer.
The winner of last Friday's fourth and final heat of the Battle of the Bands competition at the Exchange Arts Centre in Keighley was Backspace, who join previous heat winners Cliché Cult, Wilko Wilkes and Cressa.
Four wildcard entries have also been selected from across the four heats to perform in the final this week - they are Stageminus, Mookie and the Bab, Red Shakes and Reece Beck.
You can read more about the acts below.
Four slots at the Gateways Festival are on offer - two bands will play the Big Top Stage, one on Saturday 23rd July and the other on Sunday 24th July. Two bands will win a slot on the festival's main stage - one on each day.
The Battle of the Bands final is this Friday night (1st April) at the Exchange Arts Centre on Russell Street in Keighley starting at 7.30pm. Tickets are free - on the door or in advance from exchangearts.co.uk
Tickets for the Gateways Festival are on sale now - and we have a competition running this week with a chance to win a pair of weekend passes. Tap here for details!
Cliché Cult
Formed in June 2020 and born out of the first lockdown in the UK, Cliché Cult have big plans for the future. Combining elements of the modern and the older generation of indie music, Cliché Cult's sound has been compared to the likes of Joy Division and The Talking Heads.
Having released 3 singles in their first year, they went on to play their debut show in London during the summer of 2021, followed by their local debut for This Feeling at the Lending Room in Leeds.
Wilko Wilkes
Wilko Wilkes is an alternative rapper, writer, lyricist, singer, MC & storyteller from West Yorkshire. His diverse writing takes you on a journey from the depths of depression to the thrill of feeling alive, encapsulated by his trademark manic laugh. He writes and raps from the heart, blending his troubled and uneasy outlook on life with messages of hope, unity & respect, peppered with humorous wordplay, mundane real-life references and unexpected twists. A master of timing with unerring conviction, he delivers his verses at blistering pace with
Cressa
Cressa are an indie rock band from Bradford. The band consists of 5 lads who all share a joint passion of making and performing music. Members of the band include Alex Arana (lead vocals), Tom Arana (lead guitar), Johnny Thompson (rhythm guitar), Archie Walker (bass) and Harry Harwood (drums).
Backspace
BACKSPACE are a Leeds based indie Alt-Pop band, formed in 2017 by friends, Harry, Alex, Rosie, Miles and Harry. With infectiously catchy songs likened to bands as diverse as Wolf Alice, The Cure, False Advertising, The Orielles to L.A. Witch and Young Marble Giants BACKSPACE are regular additions to the bill at some of Leeds' best venues and have supported the likes of Elephant Trees, Apollo Junction, Alex Tracey, Conflare and Artio. Now with Harry at uni, Alex has taken up the beats and Izzy had joined the band on rhythm guitar.
Stageminus
stageminus is a three-piece from Bradford, playing original songs inspired by grunge and alt rock genres.
Mookie + The Bab
Mookie + The Bab are an all-acoustic alt-folk group, expressing frustrations in relation to the climate emergency, floods, fires and desertification, and explore themes of hope and kindness. Acoustic guitar, Mandolin, Fiddle, 4 piece layered harmonies, and the occasional bit of trumpet, captures the sound of the American Southwest, whilst remaining true to British working class roots. Some key influences include Bob Dylan, Lumineers and Fleetwood Mac, however there are many artists, musicians and sounds that could be credited as providing inspiration, guidance and education. After writing new material over the lockdowns, Mookie + The Bab are now in the studio recording their debut EP which will be due for release in Summer 2022
Reece Beck
Melodic anthems with a youthful rawness harking back to a 90s DIY culture, Reece Beck are a 5-piece Indie Rock band from Skipton consisting of Vocals (Luke Midgley), Lead Guitar (Harvey Holme), Rhythm Guitar (John Greenwood), Bass Guitar (Owain Turvill), and Drums (Jack Barugh). The band met at school while attending Upper Wharfedale and South Craven schools. Formed in April 2021, they have started to build up a reputation gigging locally in the Skipton and Keighley area, and have recently started expanding into the Leeds music scene playing shows at The Lending Room and Santiago Bar in January 2022. Musically they combine the songwriting sensibilities from from Indie Rock staples like Oasis and Arctic Monkeys, with the atmospheric sound and production style of modern-day artists such as Inhaler and DMAs. They have been in the studio recording recently producing their own tracks and have music with memorable hooks and an immense sound on the way very soon.