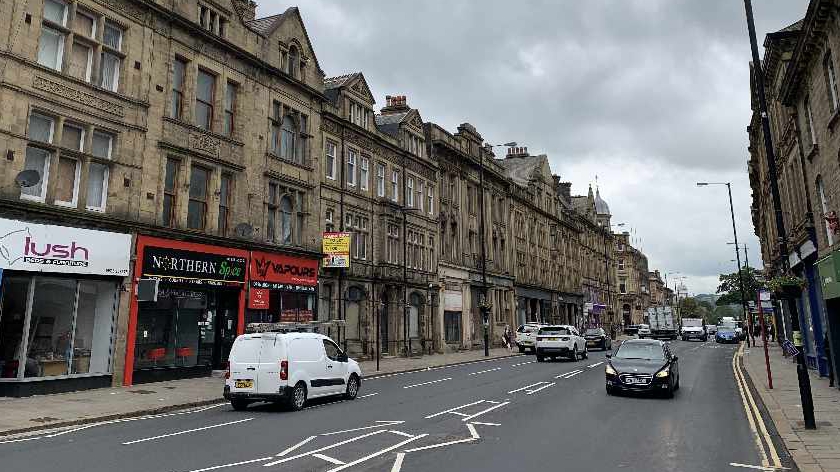 Skills training schemes, town centre improvements and real-time bus information are among the projects set to benefit from £33 million awarded to Keighley.
The Towns Fund bid submitted to government was put together last autumn and winter by the Keighley Towns Fund Board. The board was chaired by local businessman Ian Hayfield of Hayfield Robinson, with Keighley College Principal Steve Kelly acting as Vice Chair, alongside local MP Robbie Moore, former Keighley Town Mayor, Cllr. Peter Corkindale and other local representatives.

The £33.6m awarded will fund the creation of a new Manufacturing, Engineering and Future Technology Hub to specialise in training local people in critical manufacturing and engineering skills, to help create more local jobs. A new Skills Hub will also be established, delivering training in digital, communication and personal development skills.

The government funding will also contribute funds towards a new Keighley Health and Wellbeing Centre to improve local healthcare services, and a £15m Development Investment Fund will also be established to bring brownfield sites back into use, creating new spaces for businesses to grow, as well as space for new start-ups. Public transport infrastructure will also be upgraded to provide better and more reliable services, including real time bus information, alongside new town centre improvements – including the regeneration of Low Street, improvements to Church Yard and Albert Yard, and a major tree planting programme across Keighley.

Community groups will also benefit through a new Community Grant Scheme specifically for Keighley and parts of the Worth Valley to help smaller community projects get a share of the funds.
A new Keighley Creative Art Hub has also been secured, alongside the development of Keighley Art and Film Festival.
Keighley & Ilkley MP, Robbie Moore, said: "This has been a huge team effort and I am delighted with today's result. Since we submitted our bid to the government, I have been constantly lobbying hard in Westminster to secure the best deal for our town, so I am delighted with today's news.

"We in Keighley have been forgotten and ignored for too long and this Towns Fund, delivered by our Conservative government will be a key stepping stone in helping us transform our community. The projects will help deliver transformational change for Keighley, creating opportunities and driving forward economic growth. As we begin our recovery from COVID-19, this huge £33.6m boost will help our town deliver more jobs, better education and healthcare, improve public transport and much more.
"I am really excited about what this means for our town, and I am so pleased that after having lobbied hard in Westminster to make the case that our town needed more than the original £25 million, the government has listened."
Bradford Council's Executive Member for Regeneration, Planning & Transport, Councillor Alex Ross-Shaw tweeted: "Delighted that Keighley has secured more than £30m through the Towns Fund. Thanks to the board, particularly chair Ian Hayfield, and deputy chair Steve Kelly, for all their hard work!"
Keighley West councillor Julie Lintern added: "Keighley has secured more than £30m through the Towns Fund. Thanks to the board, particularly chair Ian Hayfield, and deputy chair Steve Kelly, for all their hard work. Thanks also to our Labour-run district council for being the key delivery partner on the board."
Keighley Towns Fund projects at a glance
A fund to restore and repurpose buildings and redevelop sites for commercial and residential use.
Town Centre Improvements with an improved public spaces and connectivity of the town centre.
A space and facilities to support and develop skills for local employment and entrepreneurship including a Keighley skills hub delivering education and skills courses to adult learners of all ages to support transition to employment, and a new training hub specialising in manufacturing and engineering skills.
Supporting small businesses to grow and adapt and diversify in a changing climate and the third sectors' development through improving commercial space and strengthening their impact on the local economy and community.
A community arts hub creating a cultural destination in Keighley town centre and supporting the development of the Keighley Art and Film Festival and establishing a textile academy which will deliver a bespoke skills training package for local Black, Asian and Minority Ethnic (BAME) women to improve pathways into skilled and better work.
An integrated health and wellbeing centre in the heart of Keighley bringing together GP services including self-care and prevention, as well as community care, mental health, dental care services and a GP training hub.
A project supporting active travel in the town including repairs to the cobbled setts on Keighley Twines
Delighted that Keighley has secured more than £30m through the Towns Fund. Thanks to the board, particularly chair Ian Hayfield, and deputy chair Steve Kelly, for all their hard work!

This is a great day for Keighley! pic.twitter.com/QzwnedqYPO

— Alex Ross-Shaw (@Alex_Ross_Shaw) June 8, 2021
🚨£33.6m to transform #Keighley!🚨

After a huge amount of work, particularly by Ian Hayfield @propconsultancy and @stevekellyuk - and constant lobbying in Westminster - we have secured £33.6m to create more jobs, deliver better education and healthcare, and improve our town.

👇 pic.twitter.com/8ie4WA5q52

— Robbie Moore MP (@_RobbieMoore) June 8, 2021