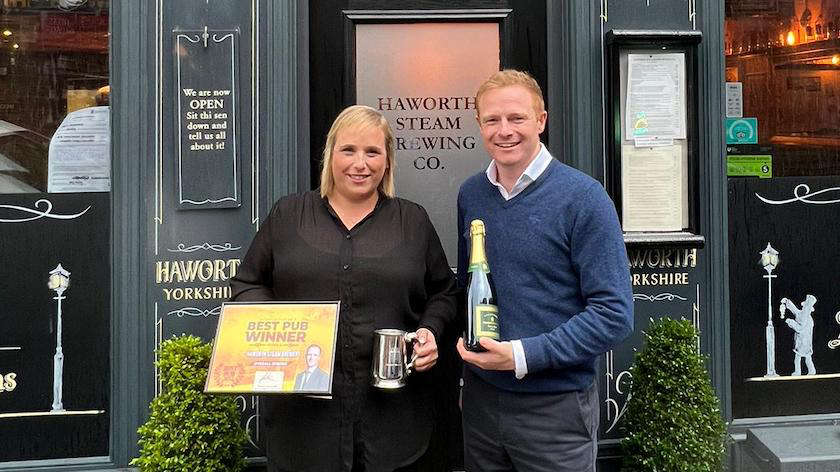 Haworth Steam Brewery has been crowned as the winner of local MP Robbie Moore's search to find his constituency's 'best pub' for 2023.
The MP says thousands of votes were cast from residents across Keighley, Ilkley, Silsden and the Worth Valley over recent weeks.
One of the smallest established microbreweries in the country, Haworth Steam Brewery is home to award-winning food and a diverse range of Traditional Yorkshire Steam Brewed beers from head brewer Andy Gascoigne, who brings a wide selection of well balanced, hand crafted brews, from Gods own County.
Haworth Steam Brewery was voted by hundreds of locals as the best establishment to enjoy a drink, with residents saying:
"Kelly and the team are always welcoming, friendly and make you feel at home." Tim, Cross Roads
"Money can't buy the feel of the place" - Angela, Silsden
"Great beer good prices and the best staff in the business." - John, Haworth
"The best ciders, ales and gins at the most reasonable prices, and all brewed by themselves" - Hannah, Haworth
In Silsden, Steeton, and Eastburn, the Goats Head at Steeton took the top spot. In the Ilkley and Addingham area, The Craven Heifer in Addingham was crowned Best Pub, while in Keighley, Riddlesden, and East Morton, The Brown Cow at the bottom of West Lane took home the award.
Mr Moore personally visited the winners to present them with their awards this week, with the winners receiving a bottle of House of Commons Champagne and a House of Commons tankard for Haworth Steam Brewery.
Robbie Moore MP said: "A huge congratulations to all the winners of my 2023 Best Local Pub Awards, including Kelly and team at the fantastic Haworth Steam Brewery for taking the top spot as our overall winners.
"It was an honour to present Haworth Steam Brewery, the Goat's Head, The Brown Cow and The Craven Heifer with their awards this week, and it just goes to show how much their customers value them, as well as their importance at the heart of our community.
"I'd like to extend my thanks to everyone who participated in the competition and I urge everyone to keep supporting their local pubs, social clubs, and bars as we head into the Christmas period!"
Kelly Gascoigne, Manager at Haworth Steam Brewery said: "To win such a prestigious award means so much to me. As a family run business to know that our loyal and faithful customers took the time to vote for us means that the hard work from me and my amazing team pays off and we couldn't be prouder of achieving this. Our little place here in haworth has overcome some challenges but we've come through and won this award and that fills me with immense pride.
"Thanks to Robbie Moore for running the award scheme and for promoting how hard pubs and restaurants work in this area to deliver. We've some great establishments across the district and this helps highlight us all.
"I just want to say once again say a massive thank you to my fabulous customers and an even bigger thank you to my amazing small team for going above and beyond and who I couldn't achieve this without. Thank You everyone!"