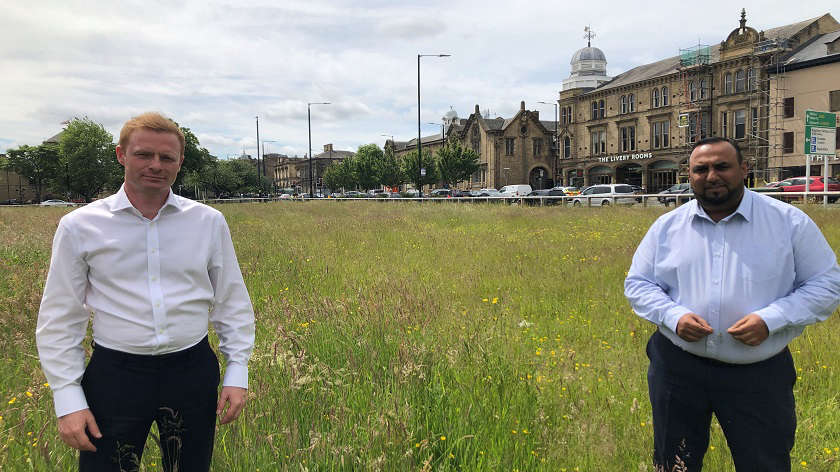 Robbie Moore MP and Cllr Mohammed Nazam on the North Street site
At last week's full Bradford Council meeting, petitioner Laura Kelly presented her green space petition to full council, its aim is keeping the old Keighley college site on North Street as green space.
Currently the site, which was transferred over to Bradford Council, is earmarked for development.
During her speech, Laura focused on the need for more green spaces in Keighley highlighting the environmental impact that green spaces have, the effect planting more trees will have with capturing carbon and the health and wellbeing qualities the green space will have. Laura highlighted the number of empty neglected buildings already scattered around the town and the need to prioritise using these buildings. Laura also touched on the general decline of Keighley Town Centre and raised that the open green space could be used for local events and community markets as an innovative way to increase football in the town.
Local Keighley Central district councillor Mohammed Nazam also spoke in support of the petition, stressing he is "not against having a new Health and Wellbeing centre in Keighley – I welcome it - just not on this site". Cllr Nazam echoed Laura's argument that "there are many other brown field sites and empty buildings across Keighley that can be identified to host the new health and wellbeing hub."
The petition, which reached over 2000 signatures, was responded to by the Council's executive member for Regeneration, Planning and Transport, Cllr Alex Ross-Shaw who indicated his support for developing this site. The petition has now been referred to the council's executive team for a decision meaning that non-executive level Keighley Labour councillors will not have to vote on this decision.
Laura Kelly, a local business owner in Keighley, has been vital in the fight against keeping this green space free from development. Last month she spoke at a public meeting in Keighley which was hosted by fellow campaigners Javaid Akhtar and Jane Lee. Laura has also been supported through this process by local MP Robbie Moore who has launched his own #KeepItGreen campaign and local district councillor Mohammed Nazam.
Commenting Laura Kelly said: "It is great that the campaign is receiving so much local support. There is so much appetite in the town to keep this land as green space. Now is the time for everybody to come together in opposition to any development on this space. Only united together can we send a clear message to Bradford Council."
Laura Kelly will be collecting signatures for the petition on Saturday 24 July from 2:30pm on the North Street site.
Commenting, Keighley and Ilkley MP Robbie Moore said: "It has been a pleasure to work with Laura on this petition. As Laura said so eloquently in her speech, the campaign to keep this space green has only just begun. Momentum for this campaign is building rapidly. I recently launched a poll on my website in which 99 per cent of respondents wanted to keep this space green. The council cannot ignore this strength of feeling amongst my constituents. I will fight to the very end to keep it green."
Commenting, Keighley Central Councillor Mohammed Nazam said: "I am immensely proud of the fact that I addressed the council for the first time as a District Councillor for the Keighley Central ward in support of Laura Kelly's petition to save the green space in our town centre. I would like to thank the efforts of Laura Kelly for bringing this petition to the council and representing the views of over 2000 residents in Keighley.
"I would also like to thank the Keighley MP, Robbie Moore, for launching his #KeepItGreen campaign in support of this petition. The residents are very loudly and very clearly saying, to the Labour-run Bradford Council - save this green space and keep it green!
"I made clear representations urging the council to reconsider their decision on building on this green space and will further continue to do so."
Anyone wishes to keep up to date with Robbie's #KeepItGreen campaign can do so here: www.robbiemoore.org.uk/KeepItGreen