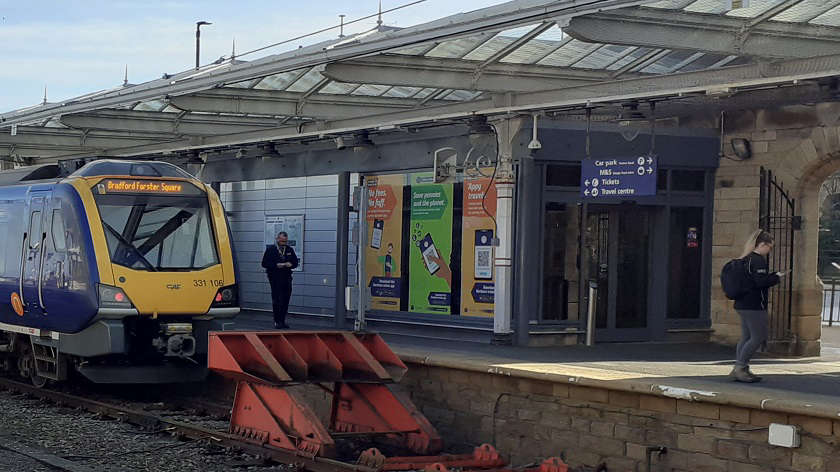 Plans to close railway station ticket offices across the country - including in Keighley and Ilkley - have been scrapped.
Rail companies had wanted to shut hundreds of ticket offices, sparking opposition from passenger groups and politicians.
The Transport Secretary, Mark Harper, says the government has made it clear to the rail industry throughout the process that the proposals must "meet a high threshold of serving passengers". He added: "We have engaged with accessibility groups throughout this process and listened carefully to passengers as well as my colleagues in Parliament. The proposals that have resulted from this process do not meet the high thresholds set by ministers, and so the government has asked train operators to withdraw their proposals.

"We will continue our work to reform our railways with the expansion of contactless Pay As You Go ticketing, making stations more accessible through our Access for All programme and £350 million funding through our Network North plan to improve accessibility at up to 100 stations."
The news that Keighley and Ilkley's ticket offices won't now be closed has been welcomed by both Robbie Moore MP and the man hoping to succeed him at the next election, Labour's John Grogan.
John Grogan told Rombalds Radio: "Common sense has prevailed in keeping the nation's ticket offices open. The fact that the Secretary of State has asked train operators to withdraw their proposals shows that it was the government that was behind the idea all along. Perhaps now the Ministry of Transport can concentrate on the core task of restoring a reliable rail service across the north."
Robbie Moore MP said: "Today's decision shows that every voice matters. By expressing our collective opposition we sent a strong message to Northern that their closure plans were absolutely not in the best interest of our community.
"Northern's plans to close the ticket offices at both Keighley and Ilkley train stations was a ridiculous idea from the start and completely ignored the needs of customers.
"As soon as these ill-thought through closure proposals were announced by the train operator, I raised my concerns directly with the Secretary of State for Transport in the House of Commons chamber, wrote to the Managing Director of Northern and the rail minister, and encouraged as many local residents to submit their objections through Northern's public consultation.
"Today, I am pleased the government has instructed the train operators to withdraw their completely misjudged closure plans which would have negatively impacted many commuters, especially passengers who have accessibility issues and require face-to-face assistance to book complicated journeys.
"A huge thanks to all who got involved to make their voices heard. We did it! - our Ticket Offices have been saved."
Councillor Susan Hinchcliffe, the leader of Bradford Council and Chair of West Yorkshire Transport Committee, said: "We welcome today's announcement that the plans to close ticket offices across our district and the wider region will not now go ahead.
"Leaders and rail user groups across the region had voiced their concerns about the plans which would have had significant impacts on those passengers who use ticket offices and the staff who work there. It really is good news for both passengers and staff that the planned closures will not now go ahead."
Councillor Alex Ross-Shaw, executive member for Regeneration, Planning and Transport at Bradford Council, said: "This is very welcome news for rail users in our region. The impact of these proposals, particularly on those who may need additional support at the station and to buy tickets, was not properly thought through. We're glad the Government has listened and taken the right course of action to scrap these plans. We want our railways to be as safe and inclusive as possible so more people use them."