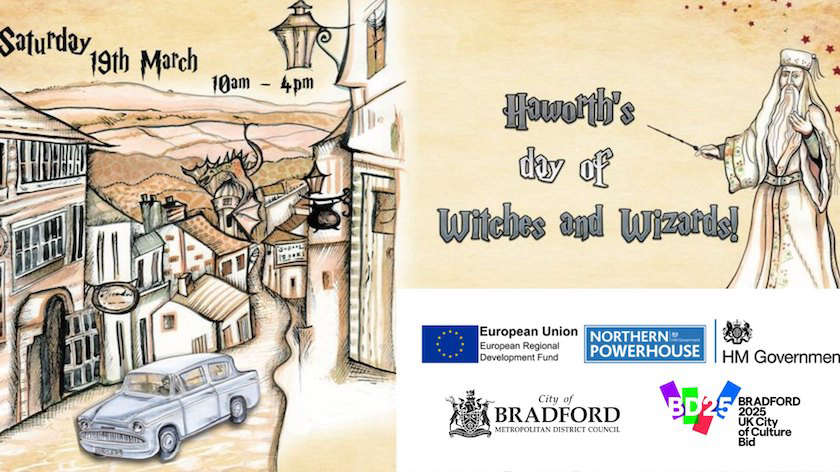 A spellbinding day packed with fantastical magical fun has been planned for Haworth this weekend, with Keighley & Worth Valley Railway offering free travel for kids who dress up.
Haworth's Day of Witches and Wizards is a free family event taking place on Saturday 19 March 10am - 4pm throughout Haworth Village centre, at the Keighley Worth Valley Railway and in Central Park.
Featuring shows, workshops and a whole host of look-a-like performers this is a must for any family who love the books of Harry Potter.
The event is being organised by Q20 Events, a Bradford-based events company, in collaboration with Bradford Council and the Keighley Worth Valley Railway.
Follow the puzzle trail and collect the stamps to uncover surprising and unexpected happenings amongst Haworth's characterful streets.
Be entertained by mystical outdoor theatre as magic is brought to life in a thrilling Battle of the Wizards show, featuring some of your favourite heroes and villains. Fearing that someone may be trying to steal a powerful magical artefact, the Headmaster summons his brightest student to his side. Together they must outwit, out-duel and outsmart the devious forces of evil before it's too late. Featuring action, excitement, comedy and illusions this highly interactive family show where the audience becomes a part of the magic takes place in Central Park at 10.30am, 12.30pm and 2.30pm.
Throughout the day visitors will be able to immerse themselves in a magical world with look-a-like performers meeting and greeting. Look out for the professors of potions and herbology as well as the groundskeeper. Those who are feeling a little sporty also can take part in broomstick lessons in Central Park at 10am, 11.30am, 1pm, 2pm and 3pm.
To add to the excitement, visitors can meet real owls courtesy of Whitby Falconers and also have their photo taken with a Ford Anglia, made famous as the flying car.
Keighley Worth Valley Railway will be running special steam trains and visitors can ride in a carriage like the ones on the Hogwarts Express (subject to availability). Up to two children (aged 5-15) dressed characters from the school of witches and wizardry can enjoy free heritage train rides on the Keighley Worth Valley Railway, when accompanied by an adult with a Day Rover ticket. Due to the popularity of the event it's strongly recommended that tickets for the railway are booked in advance. Tickets can be booked online and those booked by the 16 March will receive a 15% discount.
Park and ride with free parking is available at Oxenhope and Ingrow stations for passengers using the Keighley Worth Valley Railway train service and Day Rover ticket holders also get free access to the accredited museums at Rail Story at Ingrow.
The event is part of Bradford Council's Spring Back 2022 campaign which is a partnership with local artists, event organisers and businesses to stage a series of entertaining free events and colourful street art encourage people to rediscover the district's town's and village's high streets.
Councillor Alex Ross-Shaw, Portfolio Holder for Regeneration, Planning and Transport, said: "I'm really pleased we've been able to fund so many great events taking place across the district and in our towns and villages. I'm particularly pleased to see so many wonderful local businesses taking the opportunity to showcase their offer and I'm sure the Haworth's Day of Witches and Wizards Day be a great event for everyone."
Scott Vipond-Clarke, from organiser Q20 Events, said: "We put together a packed programme of activities entertainment for the whole day and we hope that lots of people take the opportunity to dress up and enjoy this spellbinding day crammed with wizardry and fun. So hop on your broomsticks and fly to Haworth for a truly magical day."
Tom Marshall, from the Keighley worth Valley Railway said: "We're delighted that we can be a part of this fabulous event. We're looking forward to welcoming visitors to our stations and aboard our trains, we're sure everyone will have a fantastic time."