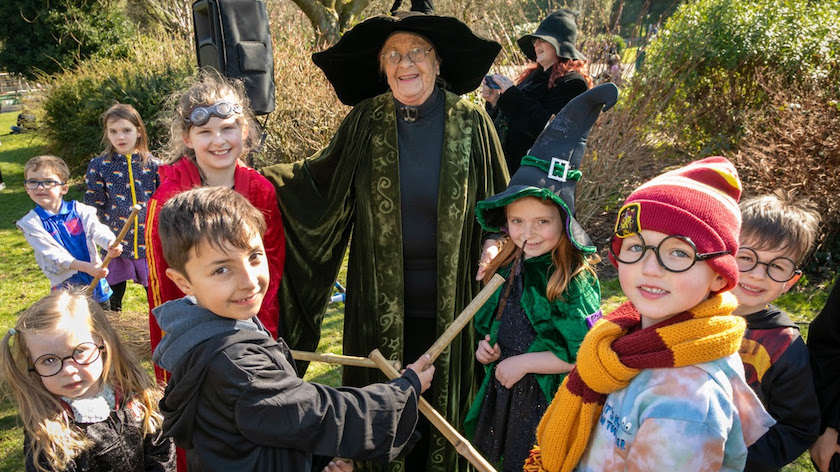 Bradford Council says around 3,500 people went to this weekend's event in Haworth aimed at encouraging people to rediscover their local high street.
Haworth's Day of Witches and Wizards took place on Saturday (19th March), as part of the Spring Back 2022 campaign.
The village's Main Street, Central Park and the Keighley and Worth Valley Railway station were crowded with families who dressed up and got in to the spirit of the Witches and Wizards Day.
An estimated 3,500 people enjoyed the day watching 'the Battle of the Wizards' show and taking part in broomstick flying lessons, potion making, having their photo taken with a Ford Anglia (made famous as the flying car).
Children and adults were delighted to meet the characters from the famous school of witches and wizards, including the professors of potions and herbology, as well as the groundskeeper. Some even got to hold real life owls!
Councillor Alex Ross Shaw, Bradford Council's Executive Member for Regeneration, Planning and Transport, said: "It's been so good to see people getting back together. I'm delighted that we have been able to fund these events to help people to reconnect with their local high street. I'm especially pleased that local businesses are involved in these events and are able to use them to showcase their offer and that the businesses in the towns and villages have also seen the benefit from the events."
Scott Vipond-Clarke organiser of the event, said: "It was a fantastic day to be out enjoying Haworth in the sunshine. Main Street was bustling and many of the shops and traders dressed their windows and themselves in suitably magical ways! The feedback from both visitors and businesses has been full of praise with comments such as "The public really loved the day. So many smiling faces we have not seen here in Haworth for quite some time."
This coming weekend, the Spring Back campaign continues with the Keighley K-Town Shopper weekend (Saturday 26th and Sunday 27th March) - a nostalgic shopping experience where people will step back in time with local artists through a fun and entertaining arts trail, outdoor galleries, street performers and an Alternative Retro Department Store.
There's also the Ilkley Family Takeover this Saturday (26th March), which will see Ilkley town centre brought to life with an outdoor celebration for the whole family - including giant puppets, sword fighting, music, story explorer trails, live window painting and more.
All the events are part of Bradford Council's Spring Back 2022 campaign which is a partnership with local artists, event organisers and businesses to stage these free events and colourful street art to encourage people to rediscover the district's town's and village's high streets.