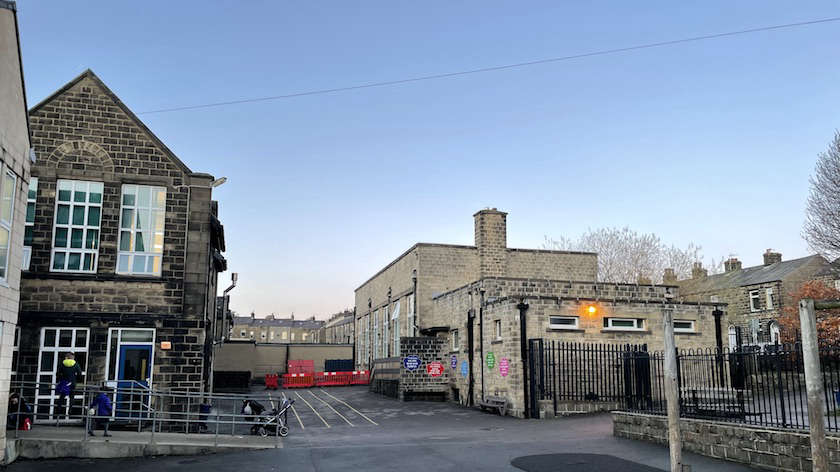 The sites of the former Aire View Infant School and Hothfield Street Junior School in Silsden have gone up for sale and are likely to be redeveloped as housing.
The infant school site which lies between Elliott Street and Aire View mostly dates from the mid-1870s, with later extensions added in 1990 and 2005. The junior school site between Hothfield Street and School Street was built in the 1910s.
Aire View opened to pupils in 1877, while Hothfield Street was in use from 1914 and for a time accommodated secondary school aged pupils prior to the expansion of South Craven School in the early 1970s.
The two sites were run as separate schools until a few years ago before they were merged to form Silsden Primary School across the two sites with one governing body and one headteacher.
A new purpose-built school covering all ages from Nursery to Year 6 opened in January this year at Hawber Cote Lane on the outskirts of Silsden, meaning the two former buildings have been empty for most of this year so far.
They are now being advertised by local property agent Hayfield Robinson as suitable for new housing developments. Both sites have been identified for housing in the Bradford Council Draft Local Plan.
The Aire View site has an area of 1.21 acres, while the Hothfield Street site is 1.27 acres.
Statements from Bradford Council used as part of the marketing for the sale of the sites suggests that both sites don't have any formal heritage designation, so planning officials may accept proposals to redevelop the sites which include knocking down the old buildings in full or part - but the council adds that retaining some of the original structures may be beneficial to any plans.
The council says in the statement: "The original buildings clearly have social and aesthetic historic value. From a Planning perspective, if proposals for demolition came forward, as opposed to conversion of the elements of merit, these would be assessed against policy SC1 (11), ensuring that developments are of high quality and well designed and that they contribute to inclusive built and natural environments which protect and enhance local settings and heritage and reinforce or create a sense of local character and distinctiveness.
"In essence replacement buildings would be expected to make an equal or better contribution to their environment [than the existing]. To achieve equivalent architectural contribution could be difficult, and consideration for retention of the most significant elements may be beneficial."