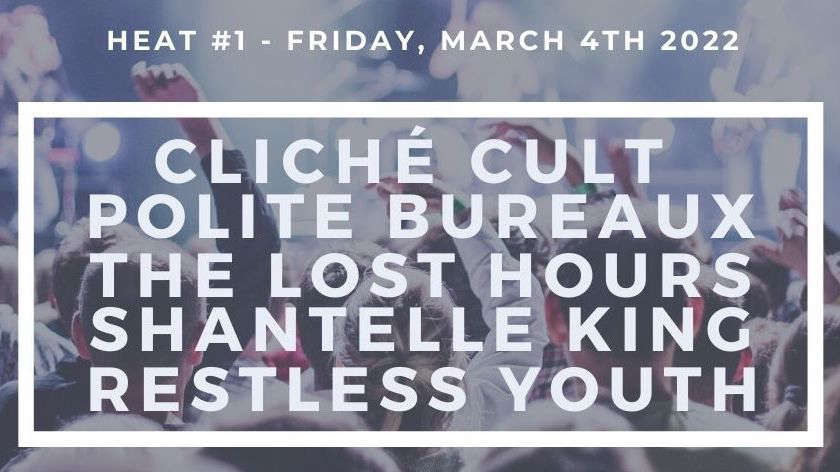 Keighley's Exchange Arts Centre will play host to the Battle of the Bands competition over the next few weeks with acts competing to win a stage slot at this summer's Gateways Festival.
The first heat takes place this Friday night (4th March), with the winners going forward to the final on Friday 1st April.
Winning acts will have the chance to perform on stage in Skipton's Aireville Park over the weekend of 23rd & 24th July alongside the likes of Jake Bugg, The Charlatans, Cast and Ash.
Tap here to find out more about The Great Yorkshire Dales Proms & Gateways Festival.
Here are the five acts performing in the first Battle of the Bands heat this Friday...
Cliché Cult
Formed in June 2020 and born out of the first lockdown in the UK, Cliché Cult have big plans for the future. Combining elements of the modern and the older generation of indie music, Cliché Cult's sound has been compared to the likes of Joy Division and The Talking Heads.
Having released 3 singles in their first year, they went on to play their debut show in London during the summer of 2021, followed by their local debut for This Feeling at the Lending Room in Leeds.
Polite Bureaux
Polite Bureaux formed in 2020 in Bradford after an entire family moved back to its origins of West Yorkshire. The name is a play on the words 'Polit Bureau' - the band are the opposite, non-political storytellers of people. Current collaborators met in Brighton as music students featuring vocalist and bassist Joe Smith and live musician Jasmine Ardley.
People living on the edges, personal experiences of when it all goes wrong, telling people story's. told in their up-coming EP 'Radioisotope' self-released about Reduced circumstance. These are not songs intended to falsely create a stir, it's just the truth about the monotony of everyday living.
Looking for the joyful side lyrics are sometimes written rightly or wrongly as a dyslexic song writer with introduced bits of other songs using hooks or rifts;- 'New Orders' Blue Monday bass line, 'Sleaford mods' jazz piano rhythm, one from David Bowies 'Space Oddity' is in the pipeline and the band have just finished a song named 'What The Dormouse Said' a story about a mouse that befriended us and lived with us in our van for 3 years.
The Lost Hours
"Some nights I shiver and shake" sings The Lost Hours on a track taken from the forthcoming EP. The Lost Hours is 23-year-old mercurial singer/songwriter Callum James Hamilton.
"The Lost Hours are the small hours, where you spend your time wondering how lonely a prospect it is being a celestial object, and where my obsession of trying to mix John Martyn style acoustic riffs with Radiohead's 'In Rainbows' era style production whilst channeling the infectious nerving bubble gum melodies of Talking Heads takes place" exclaims Hamilton.
The music contrasts love and hate emotions, deep woozy twisted soulful acoustic grooves built to hypnotise you.
Shantelle King
Shantelle King is an R&B / Neo-Soul Singer-Songwriter with distinctively jazzy and rhythmic undertones, from West Yorkshire. She aims to spread heartfelt vibes of empowerment through the power of melody. Influenced by Jasmine Sullivan, H.E.R and Brandy, her ethereal vocals and harmonies combined with the soulful undertones create an enticing and unique sound - silencing live audiences across Yorkshire, Greater Manchester and internationally. Her voice is soothing to listen to, making it perfect for a chill evening or Sunday afternoon. Shantelle King released her latest debut single, 'Summer Nights', on 31st May 2021, which she embraces as her official debut single as an Independent UK Artist.

Shantelle successfully graduated in Professional Musicianship (Vocals) from BIMM Manchester in November 2018 following her earlier dissertation song release, 'Take Time'. As many independent musicians may have experienced at least once in their life, Shantelle was faced with writers' block after being in an unhealthy and mentally strenuous relationship for 2 years. Fortunately, when this relation ended, Shantelle found her feet again and began songwriting casually in her room about the lessons learned during her experiences, which she openly shared with her loyal fanbase on Instagram. The 30-second clip which she had self-recorded and self-produced as a means to express herself became well-received, gathering over 3k views and 100+ comments with viewers requesting for this to be the new mantra for the new year AND her new single. So, Shantelle listened - and with courage, birthed 'Summer Nights (Deserve)' available on multiple streaming platforms.
Restless Youth
Restless Youth are a unique powerhouse of a band, taking Yorkshire by storm with their uncompromisingly original music. They play a fresh fusion of genres; using elements of pop, jazz and folk to create their infectious, upbeat sound.
Formed by disgruntled students in Leeds, the band focus on telling the stories of local characters, whilst keeping your feet tapping. Their performances can turn any crowd into a sweaty, dancing throng.