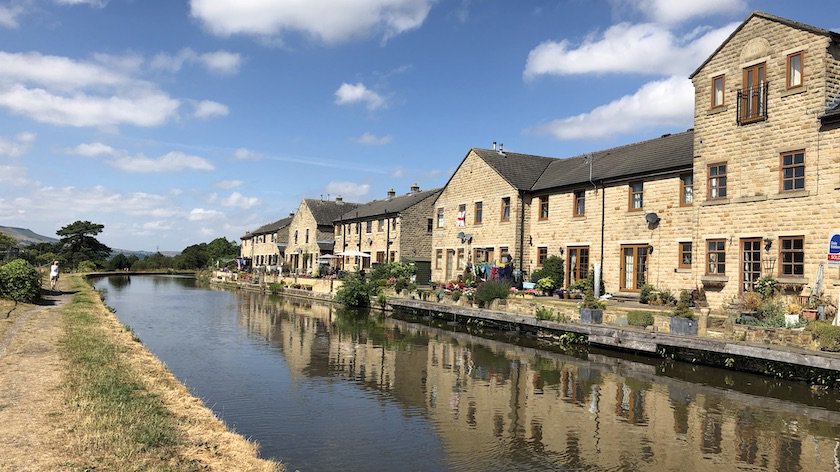 Plans to improve a 3km stretch of towpath on the Craven-Bradford border have been shelved, after bids for more than £1.5 million in government cash failed.
The towpath between Kildwick and Silsden has long been the source of complaints from locals who have described it as "dangerous" and "extremely difficult to pass" during wet weather.
North Yorkshire County Council and the West Yorkshire Combined Authority submitted bids totalling £1,570,000 for improvements.
However, they did not receive any money from the government's active travel fund.
Aire Valley councillor Andrew Brown said he was "very disappointed" with the decision for the towpath which he said is of an "unacceptable standard".
He said: "This towpath has been a concern to both myself and the Green councillor for Silsden, Caroline Whitaker.
"People will be furious that two authorities have tried to work together to fix a significant problem and have just not been able to obtain the funding needed from central government."
Councillor Brown – who was elected as one of the first Green councillors on Northallerton-based North Yorkshire County Council in May – also said the project must remain a priority and find funding elsewhere.
He said: "I am worried that if you are sitting in Northallerton, this towpath looks like a problem a long way away and of very little importance.
"But if you are on that canal bank as a resident, it is a very big problem."
Other parts of the towpath along the 127-mile Leeds and Liverpool Canal – which is the longest in Britain – have been upgraded over recent years, including a £2 million project to improve stretches between Skipton and Gargrave, and Bradley and Kildwick. The section in West Yorkshire has also been upgraded, but the work only came as far as the Keighley Road bridge in Silsden.
The plans for the Kildwick to Silsden link included a better connection from Cross Hills to Priest Bank Road, the widening of a pedestrian underpass and ramped access to Cononley Lane End.
If the bids were successful, £900,000 would have funded upgrades on a 2km stretch within North Yorkshire, while £670,000 would have covered works for the other 1km in West Yorkshire.
Barrie Mason, assistant director for highways and transportation at North Yorkshire County Council, said in a statement: "Unfortunately both bids were unsuccessful and at this early stage we are yet to receive detailed feedback.
"We will continue to look at other funding opportunities for more active travel projects across North Yorkshire."