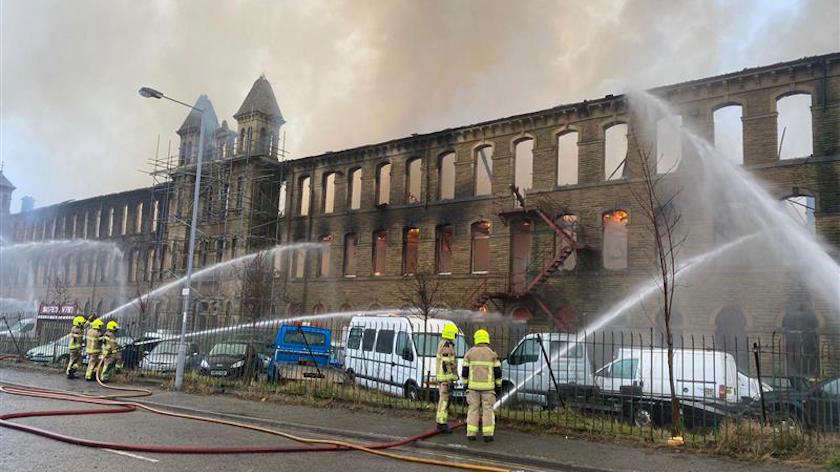 The fire that gutted Keighley's Dalton Mills was the blaze that required the biggest response in West Yorkshire in a 12-month period.
The Grade II listed mill, recently used as a film set for Downton Abbey and Peaky Blinders, went up in flames in March, leading to a huge response from firefighters across Yorkshire.
Now a new report by West Yorkshire Fire Authority has confirmed that the Dalton Mill fire led to the biggest fire fighting response of any blaze between April 2021 and April 2022.
In total 114 firefighters and eight officers attended between the start of the fire at noon on 3rd March this year and when fire was deemed to be fully extinguished at 3.30pm on 6th March.
21 fire engines were called to the scene, as were five specialist vehicles and five support vehicles in an attempt to stop the fire from spreading and save as much of the building as possible.
The next biggest fire in that 12 month period was a huge blaze at a recycling centre in Ravensthorpe just a few days after the Dalton Mill blaze, on 12th March.
That fire required 102 firefighters and 15 engines.
The report going before the Fire Authority details each fire that required at least six engines.
There were 30 such fires in West Yorkshire in that period, a huge leap from 20 the previous year.
Other major blazes in that time period include a furniture business on Summerville Road, Bradford in May 2021, which was caused by a naked flame and required a response from 102 firefighters, and a fire at a tannery at Sheepscar in February that saw 52 firefighters attend.
Built in the 1860s, the mill was one of the largest in the area, and has been a Keighley landmark ever since.
As well as providing space for numerous businesses, the mill had also been a popular filming location in recent years.
A large chunk of period thriller The Limehouse Golem was filmed in and around the mill, and its Victorian splendour provided the backdrop to many popular TV shows.
The future of the huge building is uncertain. In some areas all that remains are the mill's walls. However, Heritage England has said the damage is not so serious that it needs to be demolished for safety reasons. The heritage organisation is working with Bradford Council to determine the building's future.
The fire was judged to have been caused deliberately, and five people were arrested after the blaze.
West Yorkshire Police have said these five people remain under investigation.