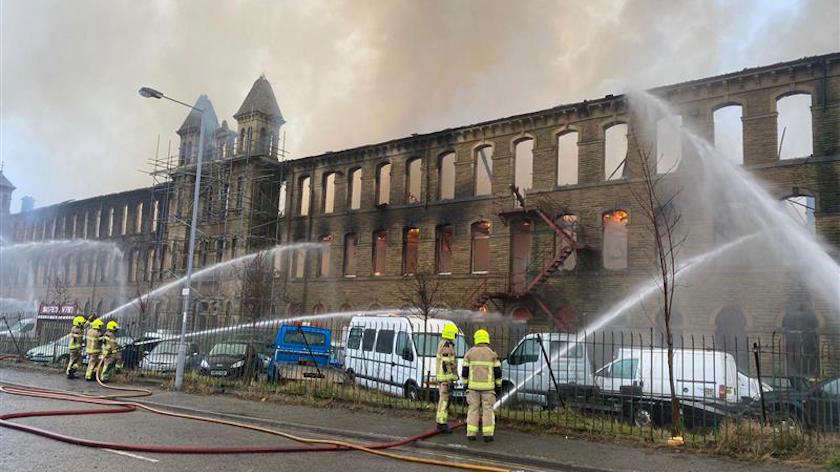 Police and Fire officers say they are no longer on scene at Dalton Mills in Keighley, following the major fire that gutted the building last week.
Police issued a statement late last night (Monday) to say that Dalton Lane has now reopened to vehicles and pedestrians.
The investigation into Thursday's fire continues though, with the five suspects who were arrested on Friday on suspicion of arson now having been released on police bail while officers continue their work.
A multi-agency site meeting took place yesterday at Dalton Mills, with representatives of West Yorkshire Police, West Yorkshire Fire and Rescue Service, Bradford Council and utility suppliers.
In a statement, West Yorkshire Police said: "Due to the extensive damage caused by the fire, the building was not deemed safe to enter for any investigative work, therefore police deployment was no longer required in maintaining the location as a crime scene.
"As a result of this and the structural safety review, Dalton Lane is now fully open to both pedestrians and vehicles. However, the public footpath next to the Mill site, School Lane, remains closed."
Businesses and buildings on Dalton Lane are all accessible. Those with businesses within the Dalton Mills complex itself are advised to make contact with the landlord/owner who has control of the building.
The police statement added: "We would like to once again thank the local community, residents and businesses affected by this incident, for their patience and support. We also extend our thanks to our partner agencies for their work and support over the last four days, particularly West Yorkshire Fire and Rescue Service and Bradford Council."