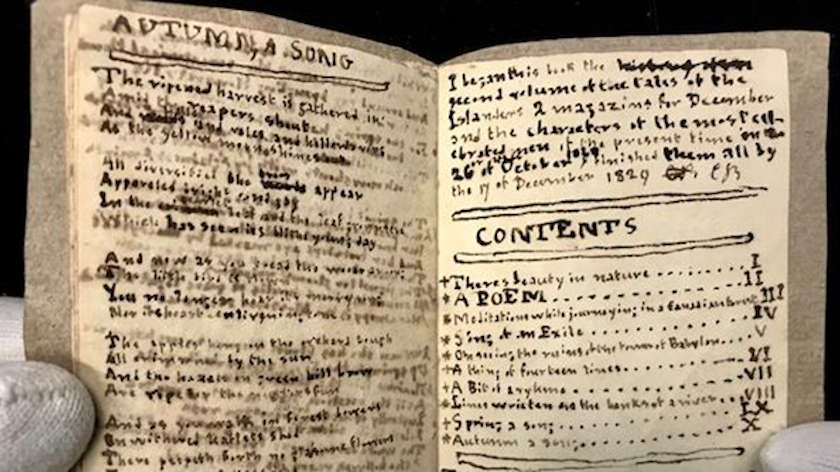 A miniature manuscript book handwritten by Charlotte Brontë in 1829 is being donated to the Brontë Parsonage Museum after being bought by a charity for $1.25m.
"A Book of Ryhmes" [sic] is one of her famous 'little books' and so inch for inch is possibly the most valuable literary manuscript ever to be sold. It measures just 3.8 x 2.5 inches and contains ten poems.
The book was bought at auction for $1.25m (around £1m) byt the Friends of the National Libraries, a charity set up to save the nation's written and printed heritage. It is believed to be the highest price ever paid for work by a female author.
Money to buy it was raised within two weeks. It is the last of the more than two dozen books created by Charlotte to remain in private hands. It was last seen at auction in 1916 in New York, where it sold for $520 before disappearing, its whereabouts - and even its survival - unknown until now.
"A Book of Ryhmes by Charlotte Bronte, Sold by Nobody, and Printed by Herself" is a collection of ten poems written by 13-year-old Charlotte. The 15-page manuscript, smaller than a playing card, is dated December 1829, and is stitched in its original brown paper covers. A Book of Ryhmes is well known in the world of Brontë scholarship: a mention appears in Mrs.Gaskell's Life of Charlotte Brontë (1857), from the transcription of Charlotte's own handwritten catalogue of the books she wrote in 1829 and 1830. The titles of the ten poems (including "The Beauty of Nature" and "On Seeing the Ruins of the Tower of Babel") have long been known, but the poems themselves have never been published, photographed, transcribed or even summarised.
The Brontë Parsonage Museum has the largest collection of Brontë manuscripts in the world. Its collections already include nine little books, soon to be joined by seven more from the Blavatnik Honresfield Library, also saved thanks to the efforts of the Friends of the National Libraries. The manuscript will be exhibited, available for study and digitised so that it can be made accessible to a worldwide audience.
Ann Dinsdale, Principal Curator at the Brontë Parsonage Museum said: "We are absolutely thrilled to be the recipients of this extraordinary and unexpected donation and wish to thank the generosity of the Friends of the National Libraries and all of the donors who have made it possible.
"It is always emotional when an item belonging to the Brontë family is returned home and this final little book coming back to the place it was written when it had been thought lost is very special for us.
"Visitors to the Museum love seeing these little books and we know how inspiring they are to so many. Sharing this newest addition to the collection later this year is something we very much look forward to."
Geordie Greig, Chairman of FNL, said: "Saving Charlotte Bronte's little book is a giant gain for Britain. To return this literary treasure to the Bronte Parsonage where it was written is important for scholars and also students studying one of our greatest women writers.
"As the leading libraries and literature charity Friends of the National Libraries had the daunting task of raising $1.25m in just two weeks. It is due to wonderfully generous donors that Friends of the National Libraries did raise this sum to buy this rarest of manuscripts and return it to its rightful home. Coming so soon after FNL raised £15m to save the Blavatnik Honresfield Library we are beyond grateful to all our donors and supporters. It is crucial more people sign up to become a member of FNL for just £1 a week so we continue our vital work."