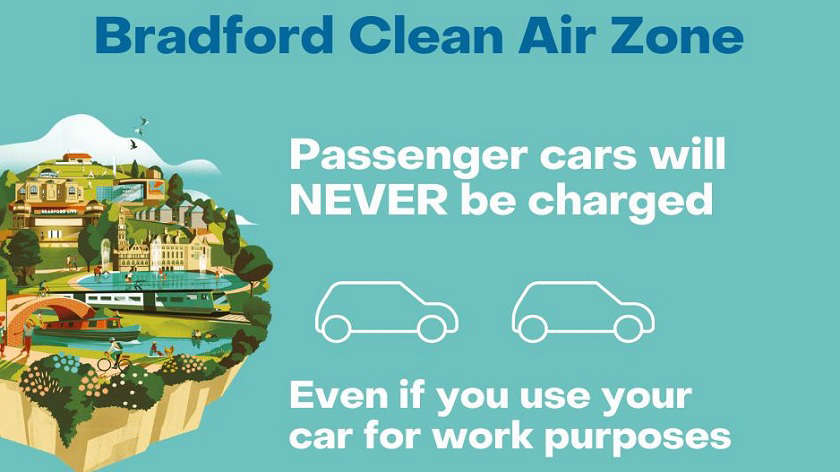 Bradford Council has launched an exemption programme to help Bradford householders, businesses and organisations adjust to the Clean Air Zone which is due to launch soon.
The process to apply for an exemption is now open for Bradford District residents and businesses with non-compliant vehicles and certain businesses based outside the District. Getting an exemption means that they will not have to pay to drive in the Bradford Clean Air Zone.
Key points to remember are:
You will never be charged to drive a passenger car or motorbike in the Bradford Clean Air Zone. This means that you do not need to take any action or apply for an exemption and it's the same for people who live outside the Bradford District. They will not be charged for passenger cars or motorbikes either.
Households in the Bradford district can apply for an exemption if they own a non-compliant commercial type vehicle for private use, such as a van or a lorry. This is in addition to campervans, motorhomes and horseboxes which are also exempt.
Bradford businesses are eligible for up to 3 vehicles being exempt so most businesses, as long as they apply, won't have to pay. Bradford businesses are eligible for up to 3 vehicles being exempt so most businesses, as long as they apply, won't have to pay. Businesses with up to 250 employees can apply including Small & Medium Enterprise (SME's) self-employed, sole-traders, and registered organisations.
There are also "sunset" exemption periods for businesses that have upgraded vehicles on order but are not yet delivered. They won't have to pay charges on the old vehicle whilst they are waiting for the new one to arrive.
Andrew Whittles, Air Quality Director, Bradford Council said: "The Government is introducing Clean Air Zones all over the country. Compared to other places, the Council has managed to secure a more extensive exemptions and grants programme from Government, which means that most local people will not have to pay. This is possible because around 85% of commercial vehicles that are expected to enter the CAZ will be from outside the District.
"1 in 5 of our children have a breathing problem. Health research has indicated that the largest health benefits of cleaner air will be felt by the most disadvantaged communities in the City where pollution levels are currently above legal limits."
There are also national exemptions which will be automatically applied to the Bradford Clean Air Zone as they are applied in every Clean Air Zone across the country. You do not have to pay a charge, if you have:
a vehicle that's ultra low emission
a disabled passenger tax class vehicle
a disabled tax class vehicle
a military vehicle
a historic vehicle
a vehicle retrofitted with technology accredited by the Clean Vehicle Retrofit Accreditation Scheme (CVRAS)
certain types of agricultural vehicles
Exemptions available for education, charity and work of social value as well as for specialist vehicles such as gritters, cranes and recovery trucks. Find out more about local and national exemptions on the website: www.bradford.gov.uk/breathe-better-bradford/what-help-is-available/exemptions/
Apply online today and make your exemption application by visiting:
The Bradford zone will cover the area inside, and including, the Bradford outer ring road. It will also extend out along the Aire valley corridor, (Manningham Lane/Bradford Road and Canal Road area) to include Shipley and Saltaire.