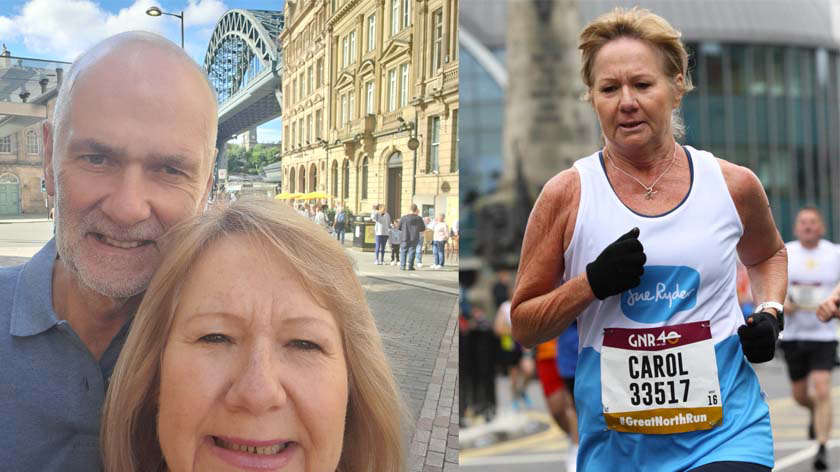 Keighley couple David and Carol Senior, who've completed the 13-mile Great North Run course three times, are encouraging local people to run it for Sue Ryder Manorlands.
This year the world's biggest half-marathon takes place on 11th September and will see around 57,000 people lace up their trainers and pound the pavements of South Shields, many supporting causes close to their heart.
Since the half marathon began in 1981, hundreds of people from West Yorkshire and further afield have run in aid of Sue Ryder Manorlands Hospice at Oxenhope, raising vital funds to support its expert palliative care and bereavement support services.
With the hospice reliant on generous supporters donating and fundraising – especially as it continues to recover from the effects of the pandemic - it's calling on local residents to apply for a guaranteed charity place, or enter the general ballot and run for Sue Ryder if they are successful.
Hayley Ibbotson, Senior Community Fundraiser at Sue Ryder Manorlands Hospice, said: "We're so excited that the Great North Run is returning to its usual format this year and we'd love to hear from local people who would like to join our team donning the famous 'Team Sue Ryder' vest to support our vital services.
"Whether you're an experienced runner with multiple races under your belt, or you've set yourself a health and fitness goal for 2022, this is the perfect challenge to work towards with plenty of time to train. All funds raised will help us continue to provide the compassionate care we are so well known for, and fill last days with love."
David and Carol Senior (pictured) from Keighley have completed the Great North Run three times in aid of Sue Ryder Manorlands Hospice. Talking about the experience, David said: "The whole event was like a huge carnival, smiles everywhere and total strangers helping and encouraging each other and raising huge amounts for charity in the process.
"Sue Ryder was well represented and the cheerleading team (who were in excellent voice) could cheer you on the way out and on the way back. I would encourage anyone to take part – it's a wonderful, joyful celebration of life…with a little running involved!"
The Great North Run general ballot is now open and will close at 9.00am on Monday 21 February. Sue Ryder's charity places are limited, so early applications via the Sue Ryder website are strongly advised.
People running for Sue Ryder will receive support every step of the way, including a Sue Ryder running vest or T-shirt, access to training tips and advice from Sue Ryder's very own professional coach, Nick, a cheer point on race day and a charity reception after crossing the finish line.
To sign up and find out more, visit: sueryder.org/greatnorthrun or email manorlands.fundraising@sueryder.org.