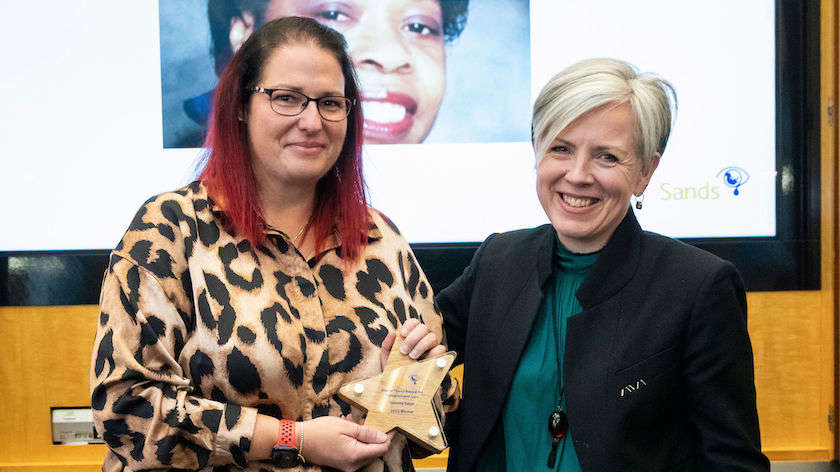 Gemma Sayer, who works as a Bereavement Support Midwife at Airedale Hospital, has been named as the winner of a national award by baby loss charity Sands.
ThecElaine Thorp Award for Bereavement Care recognises the vital work of midwives, nurses and health professionals in caring for parents and families affected by pregnancy loss or the death of their baby.

Gemma was one of two midwives from Airedale to be shortlisted for the award. She was joined by colleague Bev Beaumont, both of whom were nominated by bereaved parents for the care and support they received following their pregnancy or baby loss.

Gemma started at Airedale NHS Foundation Trust as a healthcare assistant and qualified as a midwife in 2013. She is currently working as a Bereavement Support Midwife at the hospital and was nominated by Sarah Weatherly, whose baby Rory was stillborn in 2020. Gemma supported the family with their move to the bereavement suite, so they could spend time and make memories with Rory.
Sarah said: "I first met Gemma twenty-four hours after my son Rory was stillborn. I can still remember the other midwives saying, 'Gemma's in tomorrow, she's part of the bereavement team, she's amazing, she will look after you'.
"Gemma went above and beyond. Although she was always professional, it felt like over those few days she had become a close friend. This helped, knowing we were leaving Rory with her, and I still say now, 'we left Rory with Gemma'."
Gemma says: "One year after qualifying as a midwife, I looked after my first bereaved family and I just knew that that's what I wanted to do, I wanted to continue to look after these families.

"It's sad that I'm having to do this job, but I just feel so privileged to be in their lives, to give them support, and feel like I've made a difference."

Vicky Brooksbank, Deputy Head of Midwifery at Airedale Hospital, adds: "We are so proud of Gemma's achievement in winning the Elaine Thorp Award, this is a worthy recognition of Gemma's dedication and hard work supporting bereaved families. To have both of our Bereavement Support Midwives nominated for such a prestigious award is a real accolade for Airedale."

Sands' Chief Executive, Clea Harmer, said "We received more than one hundred nominations for the Elaine Thorp Award but Gemma truly stood out through her dedication to helping all those parents she cares for begin to rebuild their lives, and ensuring their baby's memory is at the heart of everything she does. Good care can't take away the pain of the death of a baby but can help parents through this devastating time."