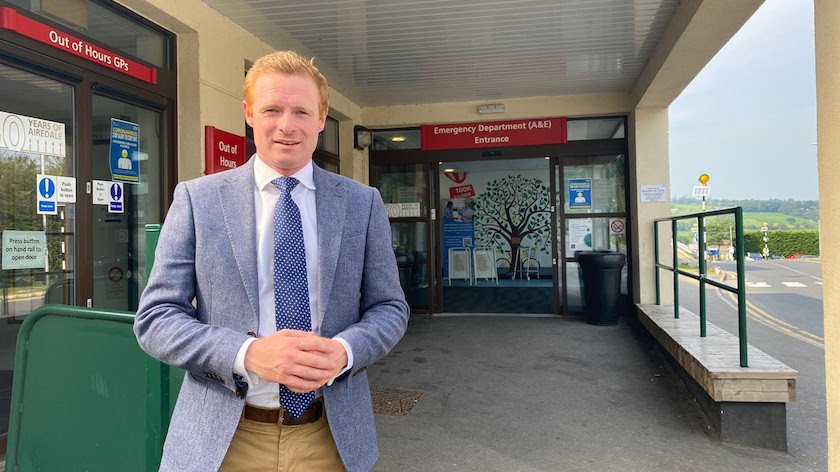 Keighley and Ilkley MP Robbie Moore put a question to Boris Johnson at this week's Prime Minister's Questions about plans for Airedale Hospital in Steeton to be rebuilt.
Speaking in the House of Commons chamber on Wednesday lunchtime, Mr Moore said: "Airedale General Hospital recently submitted its bid to be one of the Government's new hospitals. This is because the Airedale has an extremely high structural risk profile, with 83% of the building being constructed from aerated concrete. Several wards are closed due to structural risk.
"The hospital is now over 20 years beyond its original life expectancy. So can the Prime Minister personally assure me that we will be able to deliver a new Airedale Hospital that is fit for the future?"
In response, Mr Johnson said: "There is a lot of pressure on me to dish out yet another hospital from this Dispatch Box. But I can tell him we are reviewing all applications for the next eight hospitals in our new hospital programme, which is the biggest in a generation. That is only possible because we have a strong economy.
"He is a doughty campaigner for his constituents. We will make a final decision later this year."
At the end of last year, Airedale Hospital submitted its bid for a full rebuild to the Government, following an announcement that a further eight hospitals will be rebuilt on top of the 40 already announced. This included plans for a new hospital to be constructed on the same site as the current one, which would be Europe's first ever carbon-neutral hospital.
Mr Moore said: "Securing a new Airedale Hospital for my constituency has been one of my top priorities since being elected. I have held my own personal debate on the matter in Parliament, and this was the second time I have used a rare opportunity of a question at Prime Minister's Questions to call for a full rebuild.
"Airedale Hospital and its staff continues to provide a fantastic service for my constituents, even more so than usual during the pandemic. However, we cannot deny the problems the hospital is facing, including the weaknesses of the aerated concrete it is mostly made from. This is why Airedale Hospital needs, and deserves, a full rebuild.
"I was pleased to hear the Prime Minister say our bid will be considered, but I will continue to lobby him, as well as the Health Secretary Sajid Javid hard to ensure Airedale Hospital gets the full rebuild it needs."
🏥 At PMQs today, I again raised the issue of our need for a new rebuild of Airedale Hospital.

Vast majority of the hospital was built from aerated concrete, and despite being built with a life expectancy of 30 years, is now 50+ years old.

WATCH below. 🎥👇@AiredaleNHSFT pic.twitter.com/Qj9G4ihFGc

— Robbie Moore MP (@_RobbieMoore) May 18, 2022