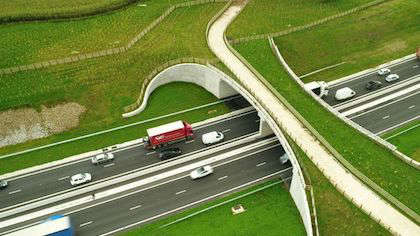 Image: Highways England
Bradford Council says upgrades to walking and cycling infrastructure in Steeton and Silsden - including a bridge over the A629 - will be completed by Summer 2026.
Together with the West Yorkshire Combined Authority, it has secured funding from the government as part of the City Region Sustainable Transport Settlement grant.
Earlier this week it was announced that work on the A629 bridge would begin in January 2025.
As well as the bridge - providing safer links between Silsden and the railway station, Airedale Hospital and Millennium Business Park - there will be improvements to the National Cycle Network Route 69 along the Leeds-Liverpool Canal towpath.
Subject to further approvals during the scheme's development, the council says work is expected to be completed by Summer 2026.
Proposals to build a bridge over the A629 date back over a decade. Earlier this year the future of the plan seemed uncertain, as the planned cost had risen to over £10m, with little sign of where the money would come from.
Despite being a short distance from each other, Steeton and Silsden are divided by the busy dual carriageway.
A lack of crossing facilities mean people looking to walk or cycle between the two have to take their life into their own hands.
Councillor Alex Ross-Shaw, Portfolio Holder for Regeneration, Planning and Transport, said: "We are delighted to have secured funding for this important project which will make significant improvements to Steeton and Silsden.
"We know this is something local residents have been very keen on for some time and I'm pleased we're going to be able to deliver the footbridge now funding has been secured.
"This will build on existing projects designed to upgrade the district's transport network and tackle the climate crisis.
"Switching to more sustainable travel will improve air quality and people's fitness levels. On a local level, it will make crossing the A629 much safer and greatly improve the quality of the local environment."
Tracy Brabin, Mayor of West Yorkshire, said: "We are committed to making it easier for people to travel around the region, on foot, by bike and public transport, connecting people with job and training opportunities though accessible, attractive and cleaner transport.
"The proposed Steeton and Silsden scheme is part of an overall £830 million investment that will help us deliver a transformational programme of new infrastructure, let us take forward our plans for a new mass transit system and is a further step towards building a transport network that the people of West Yorkshire deserve.
"Delivering these schemes in partnership with our local authorities will allow us to move closer to our goal of an accessible and inclusive transport system, fit for the 21st century."
Robbie Moore, MP for Keighley and Ilkley, told Rombalds Radio: "I am absolutely delighted that after a lot of lobbying, our much needed pedestrian bridge over the A629 dual carriageway between Steeton and Silsden is finally going to be built. This is a key project, which I am determined will be delivered, and I am very pleased that our Conservative Government have allocated funds to deliver it, as part of the £830 million made available for transport projects of this type across West Yorkshire.
"I have been working non-stop to make sure we get the bridge, including meeting with both The Secretary of State and Ministers from The Department of Transport, and have raised the matter on several occasions in the House of Commons Chamber. I said I would get our much needed bridge delivered, and with the funds now secured, I will now be following developments closely to make sure this project is delivered as soon as possible and at a reasonable cost to the taxpayer. This is awesome news for all in Silsden and Steeton."
🏗Great news! After a lot of lobbying, our bridge over A629 between Steeton & Silsden is finally going to be built.

With funds secured from Gov, I will be ensuring Bradford Council & West Yorkshire CA deliver project ASAP & at reasonable cost to taxpayer.https://t.co/tLRqxZ5NGb pic.twitter.com/7K7eWdMGmr

— Robbie Moore MP (@_RobbieMoore) August 3, 2022