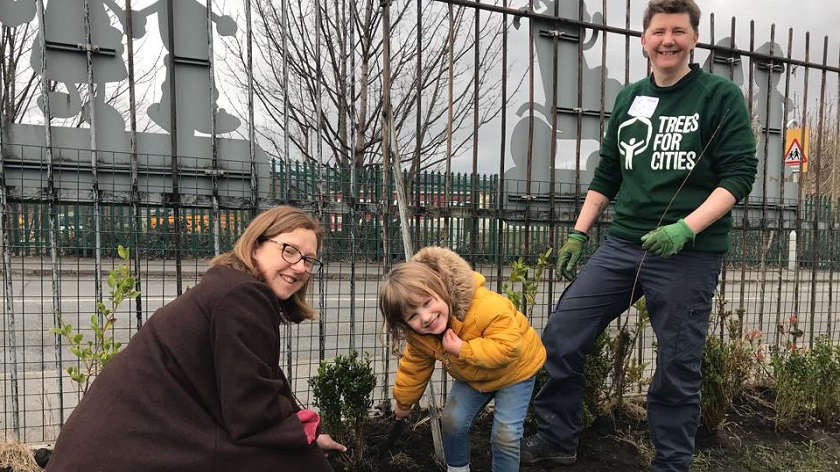 Cllr Caroline Firth, Governor at Strong Close Nursery, Mel Francis from Trees for Cities and nursery pupil
Staff, children and volunteers at Strong Close Nursery School planted 60 trees, as the first nursery in Keighley to join Bradford Council's Tree for Every Child project.
YORgreencic, one of Bradford Council's Tree for Every Child partner organisations guided and assisted the planting session on Thursday, 17 March. There was a mix of native trees, including Hazel, Birch, and Dogwood with climbers and a box hedge being planted in the nursery grounds.
Cllr Caroline Firth, Executive Assistant for Climate Action and a Governor at Strong Close Nursery, said: "I am delighted that a Keighley nursery is getting involved in the Tree for Every Child project. It's important that very young children learn the importance and benefit of planting trees, even if it's just the satisfaction of planting something and watching it grow.
"These new trees and shrubs will both benefit the environment and also create a lasting legacy for children and staff at the nursery for years to come."
Helen Jones, Headteacher at Strong Close Nursery School, said: "The plants provided will be invaluable in providing screening along the road and creating a nurturing environment where the children will learn about growth and develop care for both our nursery and the general environment."
Shaun O'Hare, Director of YORgreencic, said: "The response to the Tree for Every Child project has been fantastic with pupils across the district enthusiastically joining in, as well as teachers, classroom assistants and site managers"
Zartasha Gul, from Highfield, has a daughter Hidayah, two, at the nursery. She said: "It's a great initiative because it will give children a concept of planting and looking after nature. They're involved and it's a great legacy."
The planting session is part of a huge surge forward for the Tree for Every Child project which started in November 2020 – a pledge to plant 55,000 trees over a four year period, which is the equivalent of one per primary school child in the district. Planting is planned for 46 primary schools across the district. Schools and nurseries will get either fruit trees, natives trees or shrubs, or a combination of these on their school grounds.
There are four partners working with the council's Trees and Woodlands team and Trees for Cities to deliver the project: Fruit Works Co-operative, Bradford Environmental Action Trust, Forest of Bradford (part of Bradford Environmental Service) and YORgreencic.
The Council has invested £250,000 into the programme and invited schools and community groups to express an interest in taking part. The programme is being supported by Trees for Cities which is funded by The Dulverton Trust, The Prince of Wales's Charitable Fund and The Arbor Day Foundation. As well as The players of the Postcode Lottery.