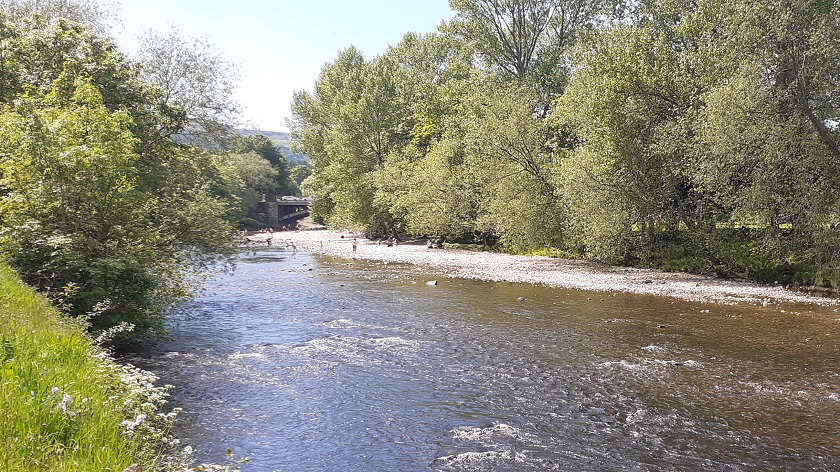 The CEO of Yorkshire Water has apologised for sewage appearing in the county's rivers.
Nicola Shaw, who has been CEO since May 2022, acknowledged people's anger as reports of sewage in rivers across Yorkshire and the country have increased in recent months.
A stretch of the River Wharfe in Ilkley was granted bathing status in 2021, but last year the Environment Agency said swimming was "not advised", as the water quality is poor because it contains effluent from storm overflows and runoff from livestock farms.
Ms Shaw said: "There has been a huge amount of criticism of, and anger at, the water industry over recent months. I get why people are angry; seeing sewage in our rivers and seas isn't right.
"We should have a system that befits the 21st Century. So, on behalf of Yorkshire Water, I am sorry. We should have acted more quickly to change the situation. That's why I have decided to refuse any bonus this year as I want us to make progress. And we do now have a plan – and indeed we are already taking action to improve Yorkshire's rivers and coastal waters".
Ms Shaw plans to invest £180m by March 2025 to build more capacity to store waste water.
From then, she said: "We'll be delivering our largest environmental investment ever.
"Water companies' investment plans are structured in five-year blocks and our plan will be tested by customers and regulators to make sure it's right for Yorkshire.
"We'll have more to share on this after we've finalised the details".
The River Wharfe has been particularly contentious, leading the Ilkley Clean River Group to set up in 2018, which managed to get the river recognised as a key spot for bathing.
Ms Shaw said: "We were too slow here as well, but in March this year we started tunnelling for an underground sewer to double the capacity of our sewage system in the town.
"This is a big project and will alone cost £15m, and we'll have this in place by the end of the year.
"We've also pushed to bring forward a second stage of investment worth over £50m to improve the quality of the water along the Wharfe to bring further benefits to those swimming at Ilkley".
Last year, the Environment Agency stated Yorkshire Water's environmental performance requires "significant improvement", as it recorded 74 pollution incidents in 2021, including five that were serious.
According to a government estimate, it would cost between £350bn and £600bn to eliminate sewage discharges, as water companies would need to completely separate the sewage and rainwater systems that homes and businesses across the country use.
Figures released by the Environment Agency show the number of sewage discharges recorded by Yorkshire Water dropped by 22 per cent, from 70,062 to 54,273, between 2021 and 2022.
The amount of time sewage was allowed to spill into Yorkshire's waterways fell by 43 per cent, from 406,131 hours to 232,054 hours.