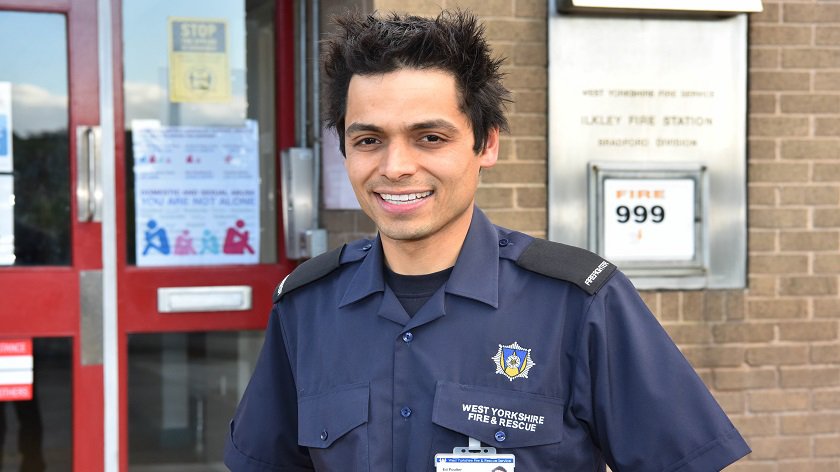 Ed Poulter is a trainee firefighter working out of Ilkley Fire Station
West Yorkshire Fire & Rescue Service is launching an appeal to recruit on-call firefighters to support rural communities in Ilkley, Otley and Silsden.
The three towns have been highlighted in the geographically specific recruitment drive that is looking to attract suitable candidates to serve at the three stations.
Potential candidates need to be over 18, within a 2.5km radius from home or work of their chosen fire station and commit to being on call for a certain amount of hours per week. These can be covered during your normal working day, as long as you have the flexibility to leave work at a moment's notice. There are no restrictions on either weight or height, however, candidates are required to have a good level of strength and fitness.
People may find that they have more flexible working practices, or are home-based post- lockdown, and that now allows them to consider a firefighter role that wasn't feasible pre Covid-19.
"This presents a fantastic and exciting opportunity to learn new skills whilst being paid, alongside your 'day job'," said Bradford District Commander Benjy Bush. "We are looking for individuals who want to give something to the community but will also get an awful lot back in return. It is an exciting and rewarding career that helps to bring out the very best in people."
Once accepted, on-call firefighters have two options to complete their initial phase of training. There is a 15-week (non-residential) training course held at the WYFRS headquarters in Birkenshaw, Bradford, or a modular training option with station-based colleagues using regular assessments of the required basic core skills, including some practical sessions at fire service headquarters. Depending on an individual's time commitment, the modular option can take between 6 and 12 months but is expected to be completed in no more than 18 months.
WYFRS is also appealing to local employers in the area who can support employees wishing to train as an on-call firefighter by allowing flexible working practices. They, in turn, are helping their local communities as well as having more engaged, fulfilled, members of staff who are learning new personal and management skills.
"This is a chance to go from ordinary to extraordinary and a role that is suited to more people than they may realise," added District Commander Bush. "We have firefighters from various backgrounds who work on the on-call system and we welcome underrepresented groups into the service. We're committed to ensuring that our workforce is representative of the communities we serve."
To ensure potential candidates are within the strict time or distance allowed to serve the individual stations, WYFRS will undertake several dry runs to the station using different routes at different times of the day. Sometimes, something as simple as a delayed traffic light can be the difference between a would-be firefighter hitting or missing a response time and being accepted on to the training programme.
District Commander Bush added; "If you are unsure whether you are within the catchment area then contact the local fire station for guidance."
"We do find that we have recruitment issues from time to time in very specific pockets and this can be due to the demographics of the area, levels of employment etc, but on-call firefighters are crucial members of our team who serve alongside full-time firefighters and receive exactly the same level of training and support."
On average, a quieter On-Call station may receive around 100 calls per year (two a week) with the busier stations taking around 250 to 300 calls per annum (four to five per week). Spring and summer tend to be busier times for On-Call stations such as Ilkley, Otley and Silsden in more rural areas.
Wildfires and fires in the open increase, as the weather improves, and a dry Spring adds to the risk factor. This year, as the country comes out of lockdown, there could also be a spike in BBQ and moorland fires as people start to socialise further afield but don't realise the risks in starting open air fires.
Ed Poulter is a trainee firefighter working out of Ilkley Fire Station and is currently approximately a third of his way through the training programme:
"I used to be a civil servant working full time and long hours but having two small children and my wife is a nurse, I took the decision to take a different career path and apply to be a retained (on call) fire fighter. I am already a member of the local mountain rescue team and a couple of friends are in the fire service; they thought my skills would be transferable, so they encouraged me to apply.
"The team at Ilkley is relatively small so has provided the opportunity to become integrated quickly and feel like a valued member. The training so far has been varied and interesting and has included learning how to set up the various ladders, pump from open water, undertake rescues from height and deal with hazardous materials. This will soon culminate in an assessment and if passed will allow me to ride the appliance supporting the crew on rescues - a key milestone in becoming a fully trained firefighter."
"I also work part-time for Green Roofs Naturally, my boss has been great allowing flexible working hours that work around my training. There's also the recognition that the skills developed through the fire service can be applied back into workplace, mutually benefiting both employer and employee."
Relocation packages are available, with further details on the website listed below.
Anyone interested in applying can find out more about the job and process here: https://oncall.joinwyfirefighters.com/what-you-need-to-know/faqs/ or https://oncall.joinwyfirefighters.com/be-an-oncall-firefighter/requirements/